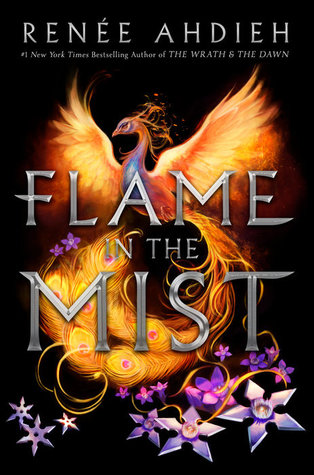 Title:
Flame in the Mist
Author:
Renee Ahdieh
Publisher:
Putnam
Release Date:
May 16, 2017
The daughter of a prominent samurai, Mariko has long known her place—she may be an accomplished alchemist, whose cunning rivals that of her brother Kenshin, but because she is not a boy, her future has always been out of her hands. At just seventeen years old, Mariko is promised to Minamoto Raiden, the son of the emperor's favorite consort—a political marriage that will elevate her family's standing. But en route to the imperial city of Inako, Mariko narrowly escapes a bloody ambush by a dangerous gang of bandits known as the Black Clan, who she learns has been hired to kill her before she reaches the palace.

Dressed as a peasant boy, Mariko sets out to infiltrate the ranks of the Black Clan, determined to track down the person responsible for the target on her back. But she's quickly captured and taken to the Black Clan's secret hideout, where she meets their leader, the rebel ronin Takeda Ranmaru, and his second-in-command, his best friend Okami. Still believing her to be a boy, Ranmaru and Okami eventually warm to Mariko, impressed by her intellect and ingenuity. As Mariko gets closer to the Black Clan, she uncovers a dark history of secrets, of betrayal and murder, which will force her to question everything she's ever known.
Well this was a pleasant surprise. I wasn't sure what to expect with this one, but I truly enjoyed it.
Mariko is the daughter of a well-respected samurai, but she's just not quite right. She loves making things, inventing new machines and things. Clearly, this is not how a girl in feudal Japan should be, so everyone just thinks she odd. Curious. They want her to act normal, because she's engaged to be married to the Emperor's bastard son. In fact, she's on her way to the capital to meet him when her caravan is attacked and everyone but her is killed. She is left for dead.
Talk of the Black Clan in the forest leads her to dress as a boy and try to get information on the Black Clan. She can't let herself go home until she knows why everyone was murdered and why they tried to kill her. But things are not what they seem.
Meanwhile, Mariko's twin brother is tracking her, and nothing adds up. She seems to be with the Black Clan, but that answer just seems too obvious. And if the Black Clan is anything, they are clever. They know how to disguise themselves. So was it actually them behind the attack?
Her brother, Kenshin, was actually a great character, and his is a secondary storyline that looks like it'll be explored a lot more in the next book. As for the Black Clan, I don't really want to say much about Okami and Ranmaru. But know that I loved them and I need to know more about Okami.
The worldbuilding is incredible. You can tell Ahdieh did her research on feudal Japan, and then there are the things you can always expect from one of her books, like lots of descriptions of food. This book made me hungry haha. And I loved how Mariko used her ingenuity to get in the good graces of the Black Clan, inventing new weapons to help them, finding out new things she never thought she would uncover. She learned to fight, not just physically, but to fight for people who couldn't fight for themselves.
This book is rife with action, betrayal, surprises, and a swoonworthy romance. But don't worry, it doesn't overshadow everything.
Overall
I really liked this book. I actually liked it a lot more than her first series.
Characters: 5 stars
Plot: 4 stars
Writing: 5 stars
World: 5 stars
Feels: 4 stars
4.5 stars