Title:
Ignite Me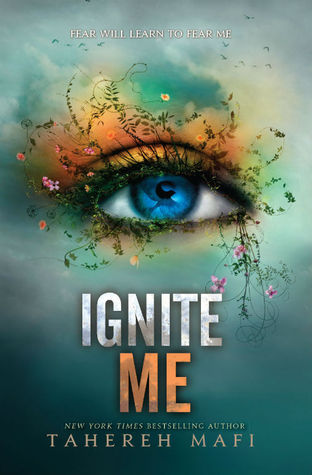 Author:
Tahereh Mafi
Publisher:
Harper Collins
Release Date:
February 4, 2014
The heart-stopping conclusion to the New York Times bestselling Shatter Me series, which Ransom Riggs, bestselling author of Miss Peregrine's Home for Peculiar Children, called "a thrilling, high-stakes saga of self-discovery and forbidden love."

With Omega Point destroyed, Juliette doesn't know if the rebels, her friends, or even Adam are alive. But that won't keep her from trying to take down The Reestablishment once and for all. Now she must rely on Warner, the handsome commander of Sector 45. The one person she never thought she could trust. The same person who saved her life. He promises to help Juliette master her powers and save their dying world . . . but that's not all he wants with her.
Well, we all know how I felt about the first two books in this series. If you haven't read my reviews and are curious, here are my reviews for
Shatter Me
and
Unravel Me.
The first thing I have to say is... It's about time. It's about time that Juliette finally showed some backbone. It's about time she gave Adam crap for all he's put her through. It's about time she recognizes her own feelings, and it's about time she actually cared and tried to do something to stand up for herself.
This was, by far, my favorite of the series. I have decided Mafi's writing style probably just doesn't meld well with me, hence me being annoyed by all the incomplete sentences and numbers used instead of writing them out. But I was able to get past it a lot more easily in this installment, because Juliette didn't just sit there crying the entire time. She actually did things! (let me just add in right here, the strikethroughs don't bother me at all. Their addition just makes for a very bad audiobook.)
Yes. I said it. Juliette actually did things that were not sitting in a corner and crying. Am I eating my words from my other reviews? Absolutely not. I still hated the first two books. But I enjoyed this one enough to actually want to finish it.
First, we have Warner, who really only cares about himself and Juliette. Which I can totally get behind. So he does everything he does just to make her happy, even though he's making himself miserable in the process. Poor dude.
Then we have Kenji, who is really cool. He yells at Adam when he knows Adam is being dumb.
And then there is Adam. Dear god. This boy needs a reality check.
The worldbuilding, while still not complete, did get better. A lot more was explained, and that definitely aided with the plot, which was far better than the plot of the first two books. It was a constant state of anxiety as they got ready to do one specific thing, instead of the first two just kind of being stories about their lives and what's going on day to day. Meh.
Overall
All in all, I actually liked this one. Enough so that I will probably be picking up Restore Me when it comes out this year.
3.5 stars