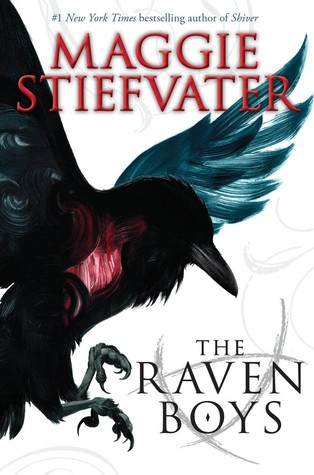 Title:
The Raven Boys
Author: Maggie Stiefvater
Publisher: Scholastic Press
Release Date: September 18, 2012
It is freezing in the churchyard, even before the dead arrive.

Every year, Blue Sargent stands next to her clairvoyant mother as the soon-to-be dead walk past. Blue herself never sees them—not until this year, when a boy emerges from the dark and speaks directly to her.

His name is Gansey, and Blue soon discovers that he is a rich student at Aglionby, the local private school. Blue has a policy of staying away from Aglionby boys. Known as Raven Boys, they can only mean trouble.

But Blue is drawn to Gansey, in a way she can't entirely explain. He has it all—family money, good looks, devoted friends—but he's looking for much more than that. He is on a quest that has encompassed three other Raven Boys: Adam, the scholarship student who resents all the privilege around him; Ronan, the fierce soul who ranges from anger to despair; and Noah, the taciturn watcher of the four, who notices many things but says very little.

For as long as she can remember, Blue has been warned that she will cause her true love to die. She never thought this would be a problem. But now, as her life becomes caught up in the strange and sinister world of the Raven Boys, she's not so sure anymore.

From Maggie Stiefvater, the bestselling and acclaimed author of the Shiver trilogy and The Scorpio Races, comes a spellbinding new series where the inevitability of death and the nature of love lead us to a place we've never been before.
Well that is a long synopsis. I've been rather behind on my review books, so since I just finished this one I thought I would put a review up about it. This was obviously not a review book lol.

I've had this sitting on my shelf now for a while, and only just got to it. But one thing always strikes me with Stiefvater's books: the prose. This is the fifth? I think? Book that I have read of hers. And always the prose is gorgeous. Beautiful descriptions, metaphors, etc. I feel almost like I'm reading a poem with its beauty.
Blue is the daughter of a psychic. Her entire family is psychics. She is the only one who isn't. But she has the peculiar power to strengthen their abilities. All her life, her family has told her that kissing her true love would make him die. But when she meets the Raven Boys, she no longer wants to abide by her rule of staying away.
So much happened in this book. I'm not even sure I get it all at this point. It probably merits a reread (or starting on the next book to clear some things up). There were a lot of twists. I can't say I didn't see any of them coming (I definitely saw some of them). But there were others where it seemed I was sitting on the edge of my seat wondering what would happen. And then something I didn't expect. I hadn't expected to be so in need of the next book. But I am.
Overall
This book is as wonderful as Stiefvater's other books. It's full of mystery and the beginnings of romance. I can't wait to read on.