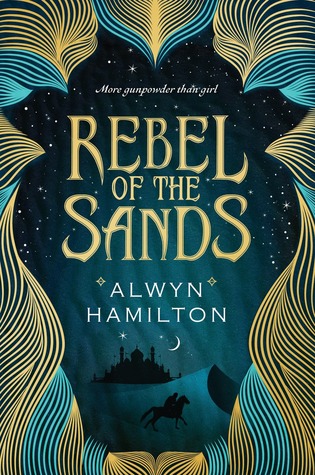 Title:
Rebel of the Sands
Author:
Alwyn Hamilton
Publisher:
Viking Books for Young Readers
Release Date:
March 8, 2016
She's more gunpowder than girl—and the fate of the desert lies in her hands.

Mortals rule the desert nation of Miraji, but mystical beasts still roam the wild and barren wastes, and rumor has it that somewhere, djinni still practice their magic. But there's nothing mystical or magical about Dustwalk, the dead-end town that Amani can't wait to escape from.

Destined to wind up "wed or dead," Amani's counting on her sharpshooting skills to get her out of Dustwalk. When she meets Jin, a mysterious and devastatingly handsome foreigner, in a shooting contest, she figures he's the perfect escape route. But in all her years spent dreaming of leaving home, she never imagined she'd gallop away on a mythical horse, fleeing the murderous Sultan's army, with a fugitive who's wanted for treason. And she'd never have predicted she'd fall in love with him...or that he'd help her unlock the powerful truth of who she really is.
So somehow I managed to hear a ton of hype about this book without actually knowing what it was about.
Before I say anything about the book itself, can I just say how much I love the cover? Even the old cover before it got this gorgeousness was beautiful. I am in love with beautiful covers, what can I say?
And now on to things that are actually of substance... Since I wasn't clear on what this book was about I was pleasantly surprised. The world is harsh and vivid. It is not a place I would want to live. And not just because I'm a girl. There are forces n this world I wouldn't want to mess with: Djinni, ghouls, and some messed up magic. This is one world I would cross off my list as book places to visit.
The romance in this book is sweet. Partially because it doesn't outshine the plot, and partially because it is a nice slow burn. The two characters get to know each other over the course of at least two months. It's such a refreshing change from the insta-love trope often seen in YA.
And can we talk about Amani? She's badass. Even though she was born a girl in a world where it's wrong to be female, she kicks butt. Majorly. She's the best shot of anyone in the book by far. She uses that skill multiple times. She still has a big heart. And she grows a lot as a character. She is strong in spite of her surroundings, and it makes her even better.
Overall?
I really enjoyed this book and will certainly be picking up a copy for myself. I can't wait to see what Hamilton has in store for us next.
Note:
I received a copy of this book in exchange for an honest review.