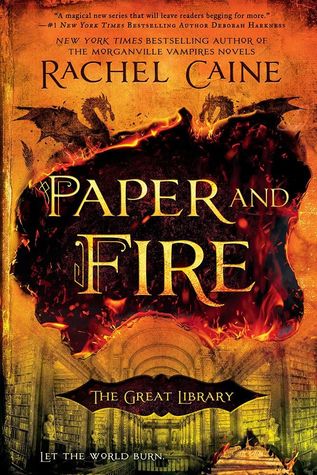 Title:
Paper and Fire
Author:
Rachel Caine
Publisher:
NAL
Release Date:
July 5, 2016

In Ink and Bone, New York Times bestselling author Rachel Caine introduced a world where knowledge is power, and power corrupts absolutely. Now, she continues the story of those who dare to defy the Great Library—and rewrite history…

With an iron fist, The Great Library controls the knowledge of the world, ruthlessly stamping out all rebellion, forbidding the personal ownership of books in the name of the greater good.

Jess Brightwell has survived his introduction to the sinister, seductive world of the Library, but serving in its army is nothing like he envisioned. His life and the lives of those he cares for have been altered forever. His best friend is lost, and Morgan, the girl he loves, is locked away in the Iron Tower and doomed to a life apart.

Embarking on a mission to save one of their own, Jess and his band of allies make one wrong move and suddenly find themselves hunted by the Library's deadly automata and forced to flee Alexandria, all the way to London.

But Jess's home isn't safe anymore. The Welsh army is coming, London is burning, and soon, Jess must choose between his friends, his family, or the Library willing to sacrifice anything and anyone in the search for ultimate control…
"I've decided I like you, boy."
Jess somehow found himself grinning.
"Everybody likes me. I'm charming."
"Shut up and move."*
I have been waiting very impatiently for this one, so I was ecstatic to be approved for an early copy on Netgalley. I loved Ink and Bone, which I listened to as an audiobook. And now, having read Paper and Fire, I still love this series. I've pre-ordered both the hardcover and the audiobook.
Paper and Fire continues a few months after the end of Ink and Bone, with Jess and Glain in training for the High Garda. But things are not quiet and as they seem. Someone in the Library lied to Jess, and it sets a whole slew of events in motion.
I could not put this book down. It's not often that I decide to play hooky at work just to finish a book. But that happened. Oops? A real page turner, this one. I loved the character development we saw from all of our characters, including Jess and especially Scholar Wolfe. We learn so much about his and Santi's past. It's heartbreaking at times, but it's refreshing to see them out of the role of teacher.
There is so much action, some romance, and really a bit of everything in here. And that ending? Ouch. I'm now sitting on the edge of my seat crying having to wait for the next book.
Overall
I loved it. I could not put it down. If you enjoyed the first book, you'll want to see what happens to everyone next.
Note: I received a copy of this book in exchange for an honest review, and that in no way sways my opinion of this book.

*Quote taken from eARC and is subject to change.