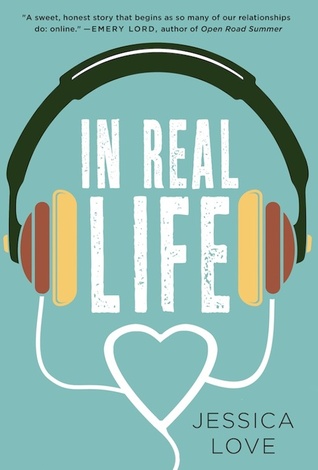 Title:
In Real Life
Author:
Jessica Love
Publisher:
St. Martin's Press
Release Date:
March 1, 216

Hannah Cho and Nick Cooper have been best friends since 8th grade. They talk for hours on the phone, regularly shower each other with presents, and know everything there is to know about one another.

There's just one problem: Hannah and Nick have never actually met.

Hannah has spent her entire life doing what she's supposed to, but when her senior year spring break plans get ruined by a rule-breaker, she decides to break a rule or two herself. She impulsively decides to road trip to Las Vegas, her older sister and BFF in tow, to surprise Nick and finally declare her more-than-friend feelings for him.

Hannah's surprise romantic gesture backfires when she gets to Vegas and finds out that Nick has been keeping some major secrets. Hannah knows the real Nick can't be that different from the online Nick she knows and loves, but now she only has night in Sin City to figure out what her feelings for Nick really are, all while discovering how life can change when you break the rules every now and then
If I had to choose one word to describe this, it would be "adorable". Having had my head immersed in fantasy for the past few months, something so light was exactly what I needed.
Hannah, known as Ghost to her online bestie Nick, has had these not-just-friend feelings for him for a while, even though she never admitted it to herself. So she decides to take an impromptu trip with her sister and friend to his hometown, Las Vegas during spring break.
But things don't quite go exactly as planned. Most of this book is spoilery, so my review will be the pros and cons of it.
Pros: It's a super short read, and it pretty much captivates your attention while reading. It took me probably six hours to read the book in its entirety (including a dinner break). It's fun and upbeat most of the time.
Cons: Super cliche. And very predictable. It's not the most original story.
Overall?
I enjoyed it. Was it my best read of 2016? No. But if I need a pick-me-up, I would totally read it again. It's such a quick read, I would recommend this to most anyone, especially if you enjoy contemporary.
Note: I received this book in exchange for an honest review, and that in no way sways my opinion of this book.