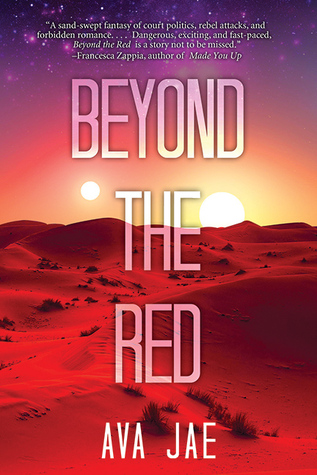 Title:
Beyond the Red
Author:
Ava Jae
Publisher:
Sky Pony Press
Release Date:
March 1, 2016
Alien queen Kora has a problem as vast as the endless crimson deserts. She's the first female ruler of her territory in generations, but her people are rioting and call for her violent younger twin brother to take the throne. Despite assassination attempts, a mounting uprising of nomadic human rebels, and pressure to find a mate to help her rule, she's determined to protect her people from her brother's would-be tyrannical rule.

Eros is a rebel soldier hated by aliens and human alike for being a half-blood. Yet that doesn't stop him from defending his people, at least until Kora's soldiers raze his camp and take him captive. He's given an ultimatum: be an enslaved bodyguard to Kora, or be executed for his true identity—a secret kept even from him.

When Kora and Eros are framed for the attempted assassination of her betrothed, they flee. Their only chance of survival is to turn themselves in to the high court, where revealing Eros's secret could mean a swift public execution. But when they uncover a violent plot to end the human insurgency, they must find a way to work together to prevent genocide.
You know that feeling when you have finished a book but it keeps coming to the front of your mind? You just keep thinking about it and the ending and everything. It stays in your head even after you've read another book. That has happened to me with Beyond the Red.
I read this as part of the #readBTR read-a-long hosted on twitter. And I'm glad I joined.
This is the story of Kora, the Sepharon that has a thin grasp on her rule of Elja. And the story of Eros, the half-blood who lost everything when Kora's people attacked his nomadic camp.
The characters are believable. They're teenagers struggling with the power they hold and the need to do what they think is right. But what's right might not always be so obvious.
The plot has some underlying dystopian features, but all in all it's sci-fi. And it's pretty twisty. As with most books, some of the twists were obvious. Others, not so much. But it kept me surprised and guessing and wanting to know throughout the entire book.
And that end. My gosh. I hope this has a sequel. because I need to know what happens. Until - hopefully at least - then, I will continue to think about this book. I will definitely buy a copy for myself.
Overall?
I really liked it and would recommend to most anyone. If the synopsis interests, you, you should go read it!
Note: I received an ARC of this book in exchange for an honest review. And that in no way sways my opinion of this book.