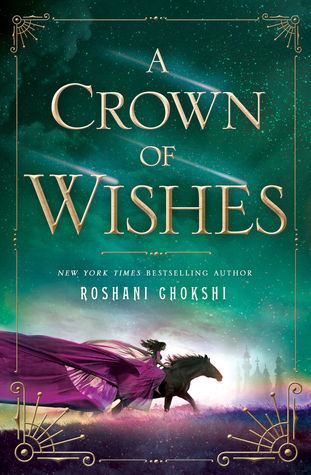 Title:
A Crown of Wishes
Author:
Roshani Chokshi
Publisher:
St. Martin's Griffin
Release Date:
March 28, 2017
Gauri, the princess of Bharata, has been taken as a prisoner of war by her kingdom's enemies. Faced with a future of exile and scorn, Gauri has nothing left to lose. Hope unexpectedly comes in the form of Vikram, the cunning prince of a neighboring land and her sworn enemy kingdom. Unsatisfied with becoming a mere puppet king, Vikram offers Gauri a chance to win back her kingdom in exchange for her battle prowess. Together, they'll have to set aside their differences and team up to win the Tournament of Wishes—a competition held in a mythical city where the Lord of Wealth promises a wish to the victor.

Reaching the tournament is just the beginning. Once they arrive, danger takes on new shapes: poisonous courtesans and mischievous story birds, a feast of fears and twisted fairy revels.

Every which way they turn new trials will test their wit and strength. But what Gauri and Vikram will soon discover is that there's nothing more dangerous than what they most desire.
Remember
when all I could do was flail over
The Star-Touched Queen
? Well, Roshani's writing has done it again. In this companion to
The Star-Touched Queen
we return to the world of Bharata and Ujijain--the place where Maya grew up, and we follow the story of her younger sister, Gauri.
Gauri has been tossed out of Bharata by her brother and thrown into enemy territory in the hopes that Ujijain will take care of his problematic sister. Only Vikram decides to free Gauri to help him win at the Tournament of Wishes before she can be executed. Together, they go on an adventure to get to the Otherworld and try to win a wish from Kubera, the Lord of Wealth. But they didn't realize that even if they win they might not both make it out alive.
There were so many things I loved about this book--returning to this myth-rich world, hearing Gauri talk more about Maya, the romance... Yes, of course the romance. As far as romances go, this one was slow burn and oh so sweet. There were so many new creatures and a few old ones. There even may or may not be a cameo of someone from the first book. If you liked the world of
The Star-Touched Queen
, you will love
A Crown of Wishes.
So let's move on to the characters. Gauri was infuriating at times, but she acted just how I expected her to. She and Vikram instantly had quite an amusing rapport, and I couldn't help but love him for his sarcasm. The side characters were compelling and complex, and I couldn't get enough.
Overall
I loved it, and I cannot wait to read more of Roshani's writing. If you enjoyed the first book you should definitely pick this one up. Even if you haven't read
The Star-Touched Queen
you should try it (though it would be best to read that first). Yes, there is a dictionary in the back.
Note:
I received a copy of this book in exchange for an honest review.