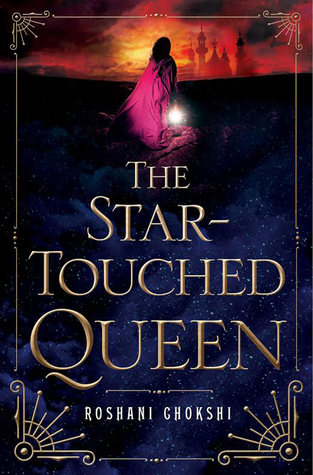 Title:
The Star-Touched Queen
Author:
Roshani Chokshi
Publisher:
St. Martin's Griffin
Release Date:
April 26, 2016
Fate and fortune. Power and passion. What does it take to be the queen of a kingdom when you're only seventeen?

Maya is cursed. With a horoscope that promises a marriage of Death and Destruction, she has earned only the scorn and fear of her father's kingdom. Content to follow more scholarly pursuits, her whole world is torn apart when her father, the Raja, arranges a wedding of political convenience to quell outside rebellions. Soon Maya becomes the queen of Akaran and wife of Amar. Neither roles are what she expected: As Akaran's queen, she finds her voice and power. As Amar's wife, she finds something else entirely: Compassion. Protection. Desire...

But Akaran has its own secrets -- thousands of locked doors, gardens of glass, and a tree that bears memories instead of fruit. Soon, Maya suspects her life is in danger. Yet who, besides her husband, can she trust? With the fate of the human and Otherworldly realms hanging in the balance, Maya must unravel an ancient mystery that spans reincarnated lives to save those she loves the most. . .including herself.

A lush and vivid story that is steeped in Indian folklore and mythology. The Star-Touched Queen is a novel that no reader will soon forget.
One word? Wow.
Excuse me while I just flail over how amazing this was.
Not often have I been left breathless by a book. But that is definitely the case here. I'm not even sure what I can say that's not just gushing. This is by far my favorite read this year.
Chokshi creates an immense and beautiful world in this re-imagining of the Hades and Persephone myth. Set in an Indian style culture (and let's face it, we need more books that use different cultures like this), we get such a vivid sense of the world. That's right, it's Greek mythology with an Indian setting. Which just makes it amazing. There are horoscopes and demons and a touch of magic to the mortal realm. But the magic comes in mostly in the Otherworld.
I couldn't help but fall in love with this right away. Chokshi's writing is gorgeous. I found myself getting lost in the prose. I could have read another book or two about Maya and Amar. And while at times I wanted to smack Maya, I completely understood why she did what she did.
The characters and the romance. Oh my feels. It was beautiful and captivating. This one deserves a reread. Or, if you haven't read it yet, a first read.
I don't want to say too much for fear of spoilers. But I will say that this book was everything I could have hoped for and more.
Reasons to read this book:
1) You like fantasy.
2) You like beautiful writing and world-building.
3) You want to read about a romance to end the worlds.
4) You like your fantasy set in places other than medieval Europe.
5) You like a complex villain with a good backstory.
Overall?
Do you need to ask? I loved it! I would recommend it to anyone!

Note: I received a copy of this book in exchange for an honest review.