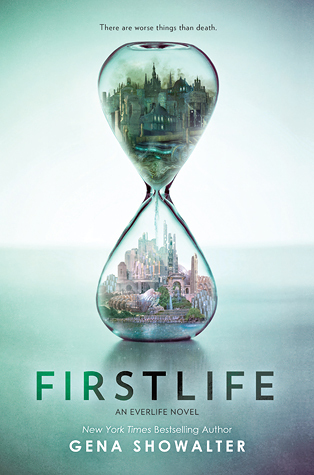 Title:
Firstlife
Author:
Gena Showalter
Narrator:
Emma Galvin, Zachary Webber
Publisher:
Harlequin Audio
Release Date:
February 23, 2016
Tenley "Ten" Lockwood is an average seventeen-year-old girl…who has spent the past thirteen months locked inside the Prynne Asylum. The reason? Not her obsession with numbers, but her refusal to let her parents choose where she'll live—after she dies.

There is an eternal truth most of the world has come to accept: Firstlife is merely a dress rehearsal, and real life begins after death.

In the Everlife, two realms are in power: Troika and Myriad, longtime enemies and deadly rivals. Both will do anything to recruit Ten, including sending their top Laborers to lure her to their side. Soon, Ten finds herself on the run, caught in a wild tug-of-war between the two realms who will do anything to win the right to her soul. Who can she trust? And what if the realm she's drawn to isn't home to the boy she's falling for? She just has to stay alive long enough to make a decision…
Oh dear, oh dear. I so wanted to like this. To love it. Where do I begin?

I would like to take a quick moment to appreciate that cover. Because, DAMN, it is gorgeous. Okay.
The Narrators
Let me preface this by saying that I love Emma Galvin as a YA narrator. She brings a certain sass and snark that is generally perfect. And it was perfect here. The problem with her in this performance was that she tended to have odd pauses here and there. Her Irish and British accents were also sub-par. Zachary Webber's accents were amazing. I kind of wish he had narrated more of the book, but he only had small snippets of emails. Too bad.
So to move on from that... I guess I kind of felt the same way I did listening to this as I did while listening to Fallen. The MC frustrated me to no end. JUST PICK A SIDE I wanted to shout! Not to be a horrible spoiler but spoiler you died and went to the realm of many ends already twice! Why would you wait and do nothing allowing yourself to die again and end up back there a third time?! end spoiler
-Sigh- And it's not that I didn't like Killian. I did. But I didn't see the chemistry there. I love Archer. He was funny and snarky.
I think mostly I'm disappointed with the characters and the plot. Everything was so over-dramatic. And yet, I feel compelled to read on just like I did with Fallen. This book is frustrating. I want to smack/punch/drop-kick Tenley. And we don't really understand all of what's so different between the two realms.
Overall
I'm not sure. Maybe I'll like book 2 better. Unlikely, but I'll probably continue on with the series anyway. If you love books with lots of angst, go for it. I will, however, be checking out Zachary Webber as a narrator. I liked him.