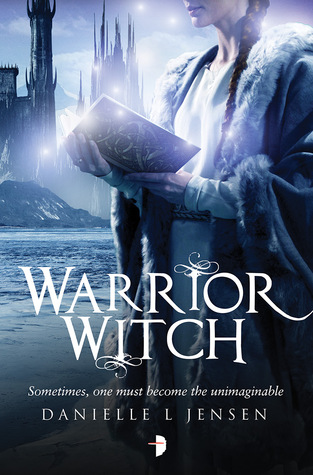 Title:
Warrior Witch
Author:
Danielle L Jensen
Publisher:
Angry Robot
Release Date:
May 3, 2016
The thrilling conclusion to the breakout Malediction Trilogy by Goodreads Choice finalist Danielle L. Jensen.

Cécile and Tristan have accomplished the impossible, but their greatest challenge remains: defeating the evil they have unleashed upon the world.

As they scramble for a way to protect the people of the Isle and liberate the trolls from their tyrant king, Cécile and Tristan must battle those who'd see them dead. To win, they will risk everything. And everyone.

But it might not be enough. Both Cécile and Tristan have debts, and they will be forced to pay them at a cost far greater than they had ever imagined.
Sigh...
I had seen a lot of mixed reactions to the final book in the Malediction Trilogy, but I was still really excited for it. I loved the first book and thoroughly enjoyed the second. Warrior Witch has my favorite cover of the trilogy. It's beautiful, and it definitely captures much of the happenings of the book. It's just too bad this fell flat for me.
I'm not sure if it's because I listened to the second book on audio or that it was months ago that I had trouble with this one. Or maybe it wasn't me at all. But I just had so much trouble getting into the book and feeling interested in anything with it. Which is sad since I was so excited to read it.
The book starts off basically the moment Hidden Huntress ends. It's right in the middle of a lot of crap happening, but somehow a lot of that crap is glossed over. Cecile annoyed me a lot throughout the book. I still enjoyed reading Tristan's POV, but those chapters were limited.
I ended up DNFing this at 45%. -cries- I may go back and reread the first two books before giving this another shot, but it just could not hold my interest.
Overall
I was bored. If you liked the first two books, definitely give it a go. But be prepared for some slight disappointment.
Note: I received a copy of this book in exchange for an honest review.