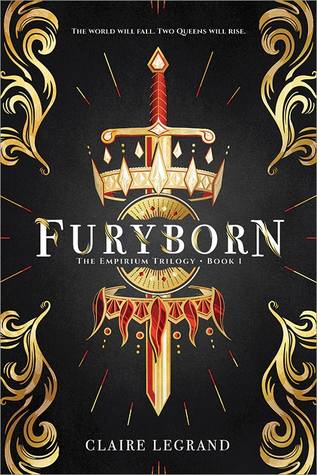 Title: Furyborn
Author: Claire Legrand
Publisher: Sourcebooks Fire
Release Date: May 22, 2018
When assassins ambush her best friend, the crown prince, Rielle Dardenne risks everything to save him, exposing her ability to perform all seven kinds of elemental magic. The only people who should possess this extraordinary power are a pair of prophesied queens: a queen of light and salvation and a queen of blood and destruction. To prove she is the Sun Queen, Rielle must endure seven trials to test her magic. If she fails, she will be executed...unless the trials kill her first.

A thousand years later, the legend of Queen Rielle is a mere fairy tale to bounty hunter Eliana Ferracora. When the Undying Empire conquered her kingdom, she embraced violence to keep her family alive. Now, she believes herself untouchable--until her mother vanishes without a trace, along with countless other women in their city. To find her, Eliana joins a rebel captain on a dangerous mission and discovers that the evil at the heart of the empire is more terrible than she ever imagined.

As Rielle and Eliana fight in a cosmic war that spans millennia, their stories intersect, and the shocking connections between them ultimately determine the fate of their world--and of each other.
I have been waiting all year to find a book I could really love, and I finally found one!
Furyborn is the tale of two women who, centuries apart, are somehow mysteriously connected. Rienne is incredibly powerful. More powerful than she should be, and is the supposed Queen of Light, the powerful queen that will save the world. But as found out pretty much immediately, things have somehow gone terribly wrong.
A thousand years later and in a different kingdom, Eliana is a mercenary, killing traitors to the empire. She has one special ability which basically allows her to be a better fighter, as she is very difficult to kill.
A war that spans the millennia, Eliana joins forces with a rebellion to find her missing mother and ultimately try to fight the evil empire.
Saying much more would majorly spoil things, which I don't want to do. So I will say Furyborn had tons of action, magic, and a bit of romance. I'm in love with this world, and I cannot wait to know more in the next book. The end just made me want more. I loved the characters, and I loved the blurred lines between good and bad.
I loved almost everything about this book. The writing, the plot, the characters, the world. This is by far my favorite read of the year, and I am so beyond excited waiting for the next book.
Overall
Welp, I loved it. Kill me now while I wait for book 2.
5 stars