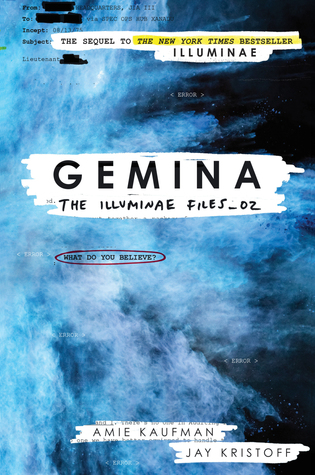 Title:
Gemina
Author(s)
: Amie Kaufman & Jay Kristoff
Publisher:
Knopf Books for Young Readers
Release Date:
October 18, 2016

Moving to a space station at the edge of the galaxy was always going to be the death of Hanna's social life. Nobody said it might actually get her killed.

The sci-fi saga that began with the breakout bestseller Illuminae continues on board the Jump Station Heimdall, where two new characters will confront the next wave of the BeiTech assault.

Hanna is the station captain's pampered daughter; Nik the reluctant member of a notorious crime family. But while the pair are struggling with the realities of life aboard the galaxy's most boring space station, little do they know that Kady Grant and the Hypatia are headed right toward Heimdall, carrying news of the Kerenza invasion.

When an elite BeiTech strike team invades the station, Hanna and Nik are thrown together to defend their home. But alien predators are picking off the station residents one by one, and a malfunction in the station's wormhole means the space-time continuum might be ripped in two before dinner. Soon Hanna and Nik aren't just fighting for their own survival; the fate of everyone on the Hypatia—and possibly the known universe—is in their hands.

But relax. They've totally got this. They hope.

Once again told through a compelling dossier of emails, IMs, classified files, transcripts, and schematics, Gemina raises the stakes of the Illuminae Files, hurling readers into an enthralling new story that will leave them breathless.
If you're reading this, hopefully you've read Illuminae. In that case, you should already know the score with these books: IMs, emails, interviews, radio transmissions. There really isn't much prose to be had. And yet, these are some of the most interesting stories I've ever read.
This story is not about Kady and Ezra. At least not in the traditional sense. Instead, we follow two new main characters, Hanna and Nik. Hanna is the daughter of the commander of Heimdall Station (remember the place the Hypatia was trying to get to?), and Nik is a member of a notorious crime regime, a drug dealer, etc. But BeiTech manages to bring them close as they fight to survive an assault on the waypoint station.
Again, if you read Illuminae, then you realize these books don't start suddenly super fast. They may take a bit to get into and understand what is happening. The same goes for Gemina. I would say that the beginning isn't quite as confusing as that of Illuminae, but I do think it starts off a little bit slower since we don't start off in the middle of the attack on Kerenza.
So as cool as the new problems on the ship are (and gross and weird), I honestly thought the phobos virus was a lot scarier. I mean they were like zombies with minds, right? The new
bad thing
on the Heimdall that Hanna and Nik have to run from is certainly creepy. It's just not quite up there as phobos creepy.
Gemina
had me on the edge of my seat.
Illuminae
was abso-fricken-lutely amazing. And
Gemina
was almost just as good. It had betrayal and surprises around every corner. Don't understand the name of the book? Don't worry, you will!
There were things in this book that just made me laugh. I would be sitting there about to cry, and then this running gag throughout the book would be brought up again, and it never failed to make me burst out laughing. Trust me, you'll know what I mean.
It's so sad that the arc copy has so many pages set as TK. I'll definitely have to check out the beauty of the finished copy.
Here's my goodreads status updates for your lolz. I probably couldn't updated my feels after almost every page.
Reasons to read Gemina
1) You loved
Illuminae
2) Space opera is totally your thing
3) Maps, pictures, drawings, awesome pages, etc
Reasons not to read Gemina
1) You didn't like
Illuminae
. I understand. It's very different and not for everyone.
2) You aren't cool with all the death that happens in space warfare
3) You haven't read
Illuminae
. While it's not
necessary
to read the first book (the main characters aren't the same), you'll have a better understanding of things that are happening if you read
Illuminae
first.
Overall
I really loved it. Maybe not quite as much as the first one, but I still loved it. Definitely recommended if you read and liked
Illuminae.
Note:
I received a copy of this book in exchange for an honest review.