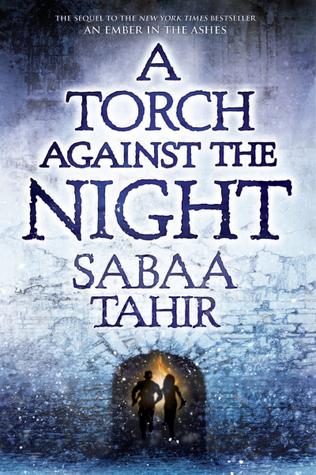 Title:
A Torch Against the Night
Author:
Sabaa Tahir
Publisher:
Razorbill
Release Date:
August 30, 20216

A Torch Against the Night takes readers into the heart of the Empire as Laia and Elias fight their way north to liberate Laia's brother from the horrors of Kauf Prison. Hunted by Empire soldiers, manipulated by the Commandant, and haunted by their pasts, Laia and Elias must outfox their enemies and confront the treacherousness of their own hearts.

In the city of Serra, Helene Aquilla finds herself bound to the will of the Empire's twisted new leader, Marcus. When her loyalty is questioned, Helene finds herself taking on a mission to prove herself—a mission that might destroy her, instead.
I want to preface this by saying while I enjoyed the first book in this series, I wasn't in love. And I must be the only person in the world that had such a strong dislike for Helene.
But things have changed.
While reading A Torch Against the Night, from page 1 I was grabbed into the story. I just could not put it down. Not only that, my feelings about my most hated character changed somewhat. Go Sabaa for making me truly love pretty much everything about this book!

We start off pretty much moments after the end of An Ember in the Ashes, with Laia and Elias running for their lives. Of course, nothing goes right while they flee, and things just begin to look grimmer and grimmer.

Laia ends up doing even more than we could have expected to get her and Elias to safety. I mean, she's with a Mask, right? You'd think he'd be the one to do everything, because Mask. But she truly shines. We learn some interesting little background things about everyone, and some really cool new characters are introduced. I can't wait to ship them!

There are twists and surprises around every turn. Okay, was I actually surprised? No. I had weirdly guessed half the twists in this book before they happened. But trust me, I am not sure how I guessed so many of them. And even when the things I was expecting to happen did in fact happen, I was raging and whatnot about how crazy that twist was. Because while I may have had that theory, I didn't really expect it to go in that direction. Or at least I'd hoped it didn't for the characters' sakes.

It's a rare book that gets you screaming and jumping for joy and hoping for more. I, for one, cannot wait for the next book.

Reasons to read this book
1) Because ships!
2) Magic!
3) You liked the first book and were curious about the second
4) I need to say it again. Ships!
5) Death lore
6) Betrayals and unexpected twists!

Reasons not to read this book
1) You didn't like the first book
2) That whole love square really got your goat and you don't think you could go through another book with everyone so confused


Overall
While I liked the first book, I truly loved this one. And I am so anxious now for the next book. Even if you were on the fence about the first one, I would suggest continuing on with the series.

Note: I received this book in exchange for an honest review.