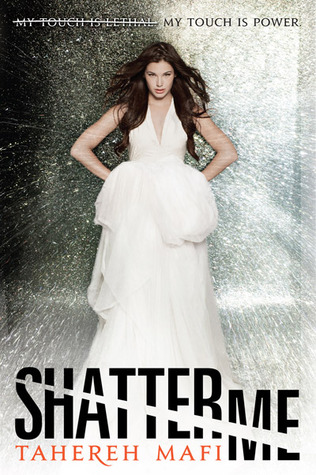 Title:
Shatter Me
Author:
Tahereh Mafi
Publisher:
Harper
Release Date:
November 15, 2011

I have a curse
I have a gift

I am a monster
I'm more than human

My touch is lethal
My touch is power

I am their weapon
I will fight back

Juliette hasn't touched anyone in exactly 264 days.

The last time she did, it was an accident, but The Reestablishment locked her up for murder. No one knows why Juliette's touch is fatal. As long as she doesn't hurt anyone else, no one really cares. The world is too busy crumbling to pieces to pay attention to a 17-year-old girl. Diseases are destroying the population, food is hard to find, birds don't fly anymore, and the clouds are the wrong color.

The Reestablishment said their way was the only way to fix things, so they threw Juliette in a cell. Now so many people are dead that the survivors are whispering war – and The Reestablishment has changed its mind. Maybe Juliette is more than a tortured soul stuffed into a poisonous body. Maybe she's exactly what they need right now.

Juliette has to make a choice: Be a weapon. Or be a warrior.
Where do I even start with this?
This is a book that should never have been made into an audiobook. I can't even say if I would have enjoyed this by actually reading it, because some things were absolutely terrible in audio form.
Okay my first complaint is the strikeouts. I don't mind them existing, but this was something not easily done in an audiobook. How do you know it's a strikeout, right? There is a weird sound of something that is supposed to be pen on paper whenever there is one. If I hadn't known these were strikeouts, I would have thought the audiobook had some weird error or something that it had these strange background noises.
The next thing was how repetitive this book was. Juliette literally spends time saying the same things over and over. There is one chapter where she says "I am not insane" like 200 times in a row. It goes on for minutes. And while repeating yourself once or twice may be okay, this really grated on my nerves, and I ended up skipping forward until she had stopped. I think it was about 8 minutes of time. There were plenty of other times that things were repeated, like how she found both Adam and Warner gorgeous. Always describing them as beautiful and gorgeous. I get it. They're hot. I don't need to hear this every time you talk to them.
Then there is the fact that Juliette was in prison and hadn't seen anyone else for over 200 days. But as soon as she sees Adam she's all, "omg he's beautiful." I'm sorry, what? That would not be my first concern.
And okay, I get that they've actually known each other for a while, but the whole relationship just felt like instalove. Like they suddenly see each other after years apart and declare their undying love. Out of nowhere.
In fact, everything about Adam just seemed too perfect. Too perfect to the point of not being able to care about him. And I definitely couldn't get myself to be interested in Juliette. She was a whiny and annoying heroine. The only character that was interesting at all was Warner, and there wasn't all that much of him.
And the end? Oh god. Okay, I'm not at all opposed to cliffhangers. But this wasn't really a cliffhanger. This just... ended. Like in the middle of a scene. They were talking, nothing was really wrapped up, and suddenly it's over.
Overall
Again, I don't know if I would have enjoyed this in physical form. I'll be reading the second book like that just to see. But overall, I hated it. I have a paperback of this book, and I wish I had stuck to that.
Characters: 1 star
Plot: 1 star
Writing: 2 stars
World: 1 star
Feels: 1 star
1 star