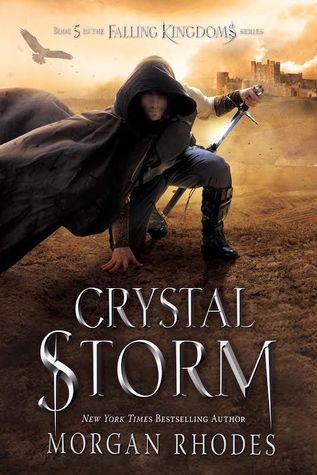 Title:
Crystal Storm
Author:
Morgan Rhodes
Publisher:
Razorbill
Release Date:
December 13, 2016

The ruthless Empress Amara of Kraeshia has taken the Mytican throne, and now uncertainty looms over the three kingdoms. Since Lucia unleashed the fire Kindred, wreaking havoc throughout the land, Myticans have been looking for someone—anyone—they can trust. They believe in Amara, not knowing her grand promises are built on lies.

In Paelsia, Magnus and Cleo reluctantly follow King Gaius to the home of his exiled mother, Selia. Selia is a powerful witch and claims she can help unlock the magic of the Kindred—if the visitors agree to her terms. When Jonas arrives from Kraeshia, he is shocked to find that his rebel army now includes his sworn enemies. Along with Nic, Felix, and the mysteriously resurrected Ashur, the contentious group agrees to cast aside old grudges—for now—and united against their common enemy: Amara.

Meanwhile, bearing the child of a Watcher and feared by all, Princess Lucia travels across Mytica to find her family. But time is running out. The impending storm signals the dark prophecy Timotheus warned her about. Her fate is written, and it includes none other than the rebel Jonas. When their paths collied, Jonas and Lucia must decide between blindly following their destiny or fighting for their own free will.

The battle for power culminates at the Paelsian palace, where Amara resides. Rain pours. Blood spills. And soon all will discover that the darkest magic comes at an even darker price.
I have just finished reading this and I have a lot of feelings. Warning, there will be major spoilers for the first four books in this review. Proceed with caution.
The cliffhanger at the end of Frozen Tides was pretty terrible. I mean, I had expected to find Ashur alive. At least I'd hoped it. And when that happened, I was overjoyed. With the way everything had played out during the fourth book, I was pretty much expecting it to happen at some point. And I was completely right about the reason he returned from the grave. There were other things, however, I was not expecting.
Before I'd read the synopsis of Crystal Storm, I'd expected to see Gaius dead. Clearly, that has not happened. And the reason for this is brought to light pretty early on in the book.
So Gaius comes back basically from the dead, and he's a new man. Transformed into the man he used to be, remorseful, capable to love. How strange, right? This is not the Gaius Damora we all know and hate. And yet, even though he is clearly still an antagonist, I find it hard to hate him as much as I did before. We learn so much more about him and his relationship with Elena (Cleo's mother), as well as his relationship with his own mother. Yes, he hardened himself and became pretty evil. But I could almost understand why.
And then, of course, there was the sudden appearance of Taran Ranus, also known as Theon's identical twin brother. Well that complicates things, now doesn't it? So even though we hardly had Theon in Falling Kingdoms, it was great to learn a little more backstory on him. And I can't wait to learn even more about the two of them in the next book.
So this book is fairly short. It's only 379 pages long, which took me merely a day to complete. And unlike the first four books, this one only takes place over a few weeks at most. The first four books take place over a period of just over a year. And as usual, we pick up right as we left off. But there was no idle time or time gaps anywhere.
I'd honestly forgotten about what was going on with Lucia at the end of Frozen Tides. I hadn't remembered that she'd battled with Kyan and ended up in the Sanctuary. Of course, she sets off immediately to find Timotheus, rightly so. She is driven, now, to protect herself and her child, as well as attempting to make amends for all the evil things she did while in Kyan's company. And I won't say much, but she does at least make a small dent in redeeming herself.
Kyan, however, is very much changed from his battle with Lucia. And he has a hidden ability that makes him even more conniving than he was before.
Of course then we have Magnus and Cleo, who I was seriously routing for. Oh, but they cannot show their affection for each other without upsetting their friends. So while they do have some heated moments and arguments, they are much subdued. Still, I love watching them argue. Okay, I really just love Magnus.
By the end of the book, I had really begun to care much more for Lucia again. Let's face it, she was pretty terrible in the last book. But she has so much stuff going on now. She was my least favorite of the four protagonists, but I'm actually invested in her story again now. And then we have Jonas and just what???
Of course, we don't get to see much of the world this time. Everyone stays basically in the same place. And it's a place we've been before many times. I had hoped we would explore more of Mytica or even Kraeshia, but, alas, we did not.
So the end? Oh. My. God.
People have not been kidding about the killer. I would not have seen that coming if I hadn't been slightly spoiled. Between Magnus and the rest of the crew and the kindred, I don't know how I will survive until the sixth book comes out in December.
Overall
While I whole-heartedly recommend this series, I think perhaps you should wait on reading Frozen Tides and Crystal Storm until closer to the release date of the last book.
Characters: 5 stars
Plot: 5 stars
Writing: 4 stars
World: 4 stars
Feels: 5 stars
4.5 stars