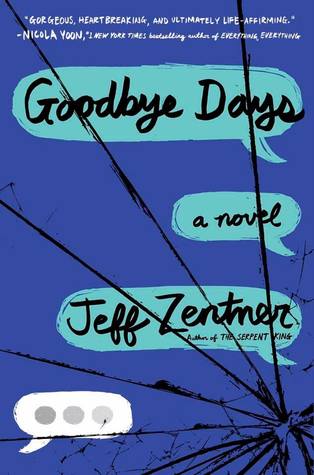 Title:
Goodbye Days
Author:
Jeff Zentner
Publisher:
Crown Books For Young Readers
Release Date:
March 7, 2017
Can a text message destroy your life?

Carver Briggs never thought a simple text would cause a fatal crash, killing his three best friends, Mars, Eli, and Blake. Now Carver can't stop blaming himself for the accident and even worse, there could be a criminal investigation into the deaths.

Then Blake's grandmother asks Carver to remember her grandson with a 'goodbye day' together. Carver has his misgivings, but he starts to help the families of his lost friends grieve with their own memorial days, along with Eli's bereaved girlfriend Jesmyn. But not everyone is willing to forgive. Carver's own despair and guilt threatens to pull him under into panic and anxiety as he faces punishment for his terrible mistake. Can the goodbye days really help?
This book guys. This book.
I cried exactly seven times, once while I was on my lunch break at work (yes I counted).
Carver Briggs is at the end of the summer before his senior year in his arts high school when he texts one of his best friends. This one text causes a car accident, killing all three of his best friends. So of course he blames himself. Of course the families of his friends blame him.
First, I want to say that I don't know how anyone could deal with a tragedy like this happening. I had two friends die in (separate) car accidents when I was in high school. It's pretty unimaginable. I guess maybe that is why this book speaks to me so much.
Carver is (obviously) pretty broken about the accident. He blames himself and simultaneously wants to atone by going to jail while being so afraid of going to jail he begins having panic attacks. This is something I think many people can relate to. The anxiety, depression, and self loathing are things so many teenagers feel on a daily basis. It's something I've felt a lot. And it was so real reading about it here.
If you're expecting a happy and/or cute contemporary, you are not in luck. Jeff Zentner seems very fascinated with the idea of death. If you read The Serpent King, you know what I mean. So while I was a sobbing mess for the second half of that book, with Goodbye Days, I was a sobbing mess mostly for the first half.
It was nice seeing Carver slowly heal, even though you know he will never be the same again. You know he will never truly get over losing all of his friends. He has to move on somehow, and that's what this book is about.
I loved Carver's relationship with his sister, Georgia. She was a wonderful and caring sister. And I really liked the way things blossomed oh-so-slowly with Jesmyn.
Overall
If you're in the mood for a crying book, this is definitely a good one. I imagine I will reread this one over and over, crying more as I notice every little detail.
Characters: 5 stars
Plot: 5 stars
Writing: 5 stars
World: 5 stars
Feels: 5 stars
5 stars
Note: I received a galley of this at ALA and that in no way sways my opinion of this book.