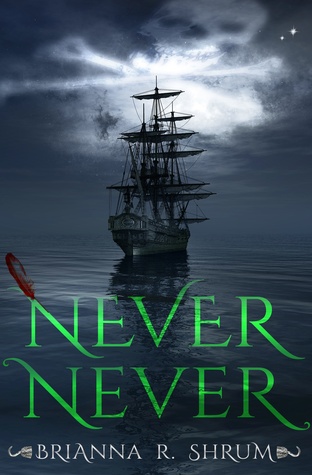 Title:
Never Never
Author:
Brianna Shrum
Publisher:
Spencer Hill Press
Release Date:
September 22, 2015
James Hook is a child who only wants to grow up.

When he meets Peter Pan, a boy who loves to pretend and is intent on never becoming a man, James decides he could try being a child—at least briefly. James joins Peter Pan on a holiday to Neverland, a place of adventure created by children's dreams, but Neverland is not for the faint of heart. Soon James finds himself longing for home, determined that he is destined to be a man. But Peter refuses to take him back, leaving James trapped in a world just beyond the one he loves. A world where children are to never grow up.

But grow up he does.

And thus begins the epic adventure of a Lost Boy and a Pirate.

This story isn't about Peter Pan; it's about the boy whose life he stole. It's about a man in a world that hates men. It's about the feared Captain James Hook and his passionate quest to kill the Pan, an impossible feat in a magical land where everyone loves Peter Pan.
I wanted to like this book. I soooo wanted to like this book. But something about it just fell so flat, I ended up having to DNF at 37%.
There were so many things that were good about this book, so I will start there. First off, I generally enjoy a story retold from the traditional villain's perspective. Seeing how they got there and seeing them more as heroes and anti-heroes can be an awesome experience. The world in Never Never was excellent. It's beautiful and treacherous and scary. And the plot wasn't terrible. It was rather interesting at times.
But the plot did start to get repetitive. And that was one of the problems I had. But the main issue I took was the characters. They all seemed one dimensional. I didn't understand why James wanted to grow up. I didn't understand why Peter hated adults. I didn't connect with any of the characters. It just felt... flat. And without any depth to it I had a lot of trouble getting into the story. Even with the best plot in the world I wouldn't have been able to get into it. I wanted to like this one. I wanted to love it. But the characters really held me back.
Overall?
It wasn't for me. If you're really into Peter Pan retellings you might like it. Or if you favor plot over character development. I think it's still probably worth a chance for most people to try.