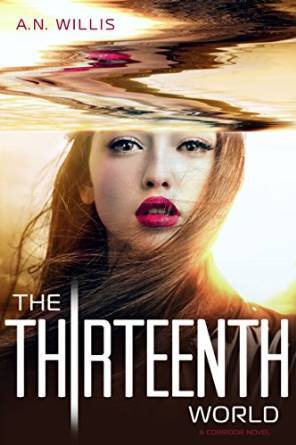 Title:
The Thirteenth World
Author:
A.N. Willis
Publisher:
Alloy Entertainment
Release Date:
September 29, 2015
Time is running out for Stel Alaster. The Corridor, the only portal between First and Second Earth, is failing and the barriers between all twelve worlds are thinning. Using her unique ability to travel through the multiverse, Stel sets out to save the Corridor . . . and ends up discovering a mysterious new world.

In the sequel to The Corridor, will the thirteenth world hold the key to the Corridor's secrets? Or will the portal implode and take every last universe down with it?
Well, better late than never, right?
I was very eager to read this sequel to The Corridor, so you can imagine how excited I was when I received it on NetGalley.
The cliffhanger at the end of the first book left me wanting more. And The Thirteenth World delivered more. Starting a few weeks after the end of The Corridor, it jumped pretty quickly into action, taking care of that pesky cliffhanger I was talking about.
This will be a bit tough for me to write a review about without giving major spoilers. So I won't talk about the plot other than to say that it was an enjoyable follow-up plot to the first book. Everything else, it's best to read it.
One of my favorite parts of the book was the characters. Seeing multiple universe versions of characters that had already died in First Earth during the events of The Corridor was a really interesting way to allow us to learn a lot more about the characters postmortem.
But by far, I enjoyed Cohl and Stel's relationship development throughout the book. The complications of being from different universes, falling in love and wanting to be together, trying to save all the worlds from the corridor exploding.
Overall?
I really enjoyed this sequel. The romance was realistic and painful at times. And the addition of the thirteenth universe in this particular multiverse, plus infinite others was really interesting. If you enjoyed the first book, you should definitely read this.