This Tag is hosted by
A Book So Fathomless
. I saw it over at Sam's blog
Tsunkodu
, and it just looked like so much fun (seriously, go check it out!).
1. Best Book You've Read So Far in 2015
How in the world do I choose just one??? Well I absolutely loved
Red Rising
and
Incarnate
. I have truly loved a lot of books I've read this year, so picking just even those two was difficult.
2. Best Sequel You've Read So Far in 2015
Hmmm...
The Crown of Embers
, by Rae Carson. It's the sequel to
The Girl of Fire and Thorns
. I honestly thought it was the best of the series.
3. New Release You Haven't Read Yet, But Want To
Does
The Wrath and the Dawn
still count as a new release? It's been on my shelf now since April. I'll get to it I swear. And if it doesn't count then...
Reawakened
literally just came out (and arrived at my home) yesterday! And the spine is so pretty I want to pet it (yes I'm strange).
4. Most Anticipated Release for the Second Half of the Year
That's a toughy. Probably
Queen of Shadows
by Sarah J. Maas. There are so many amazing books coming out this fall it's difficult to pick!
5. Biggest Disappointment
Oh now that one is easy as 3.14159265358979.... you get the idea.
Awake
by Natasha Preston. In fact, you can see my extremely disappointed review
here
. I seriously don't recommend this one guys. Seriously.
6. Biggest Surprise
Probably
Snow Like Ashes
by Sara Raasch. This may seem strange buttttt.. When I read the description of this book I thought it sounded ridiculously stupid (and yet I bought it because I'm an idiot). I am really glad that I ended up buying it tho. Because it far exceeded my expectations. And I pretty instantly fell in love with it.
7. Favorite New Author (Debut or New to You)
Jodi Meadows. Without a doubt. I love all of her work. And she tweets pictures of her cat and her ferrets. :D
8. Newest Fictional Crush
Newest? That's tough I'll have to check my GR to see what I read latest. And after consulting the goodreads... Survey says: Henry from
Dream a Little Dream
by Kerstin Gier.
9. Newest Favorite Character
Um, I have to consult the goodreads again. Oh, awesome. This one comes from an Indie book by the name of
The Demon Inside
, by M.L. Sparrow, character being Alec. Review of this comes out in a few days.
10. Books That Made You Cry
Do I have to list them all? Okay but I'm not linking to GR because there are so many...
Before I Fall
Delirium
Where She Went
Strange and Ever After
The Kiss of Deception
Paper Towns
Looking for Alaska
Will Grayson, Will Grayson
An Abundance of Katherines (I know I have a problem with crying while reading John Green)
The Orphan Queen
The Winner's Curse
The Unbecoming of Mara Dyer
End of Days
The Corridor
Magonia
This Raging Light
The Winner's Crime
The Infinite (by Lori M. Lee)
Incarnate
Infinite (by Jodi Meadows)
Stolen Songbird
Red Rising
I'm quite the crier I know... These are just the ones that I remember about. There are probably more.
11. Book That Made You Happy
Most books make me happy merely because I love to read. But I guess I'll go with
This Raging Light
(review to come in November).
12. Favorite Book to Film Adaptation You Saw This Year
Ummm... I don't go to the movies much. I'm going to see
Mockingjay part 2
when it comes out... buuuut I don't think I've seen any other adaptations this year. I avoided
Insurgent
like the plague because it looked so different from the book.
13. Favorite Review You've Written This Year
That's a tough one. I really liked
The Orphan Queen
and my not-quite-review
Red Queen vs. Red Rising
discussion post.
14. Most Beautiful Book You've Bought So Far
I love pretty books. Well the prettiest one I've bought doesn't come out until next April. Does that count? I say it does. Since I bought it the moment it was available for pre-order...
The Mirror King
by Jodi Meadow
s.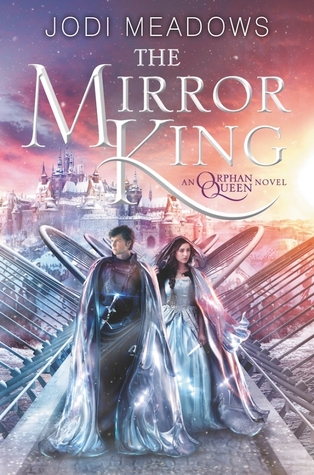 Just look at the pretty cover! I want to pet it!

15. What Books Do You Need to Read By the End of the Year
Definitely The Wrath and the Dawn, Golden Son, and a few others. My TBR pile keeps growing!
I tag anyone that hasn't done this yet!