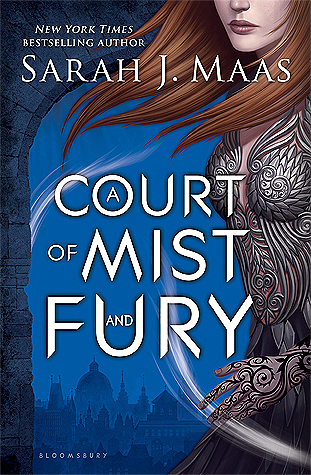 Title:
A Court of Mist and Fury
Author:
Sarah J. Maas
Publisher:
Bloomsbury USA Childrens
Release Date:
May 3, 2016
Feyre survived Amarantha's clutches to return to the Spring Court—but at a steep cost. Though she now has the powers of the High Fae, her heart remains human, and it can't forget the terrible deeds she performed to save Tamlin's people.

Nor has Feyre forgotten her bargain with Rhysand, High Lord of the feared Night Court. As Feyre navigates its dark web of politics, passion, and dazzling power, a greater evil looms—and she might be key to stopping it. But only if she can harness her harrowing gifts, heal her fractured soul, and decide how she wishes to shape her future—and the future of a world cleaved in two.

With more than a million copies sold of her beloved Throne of Glass series, Sarah J. Maas's masterful storytelling brings this second book in her seductive and action-packed series to new heights.
Warning: This review will be probably contain spoilers. Proceed with caution.
So I just finished this book about twenty minutes ago and I don't even know where to begin. Like I'm sitting here all, "How do I human?" now that I'm done.
I will take one brief moment to express how perplexed I am that a children's imprint of Bloomsbury published this. And that it is shelved as YA. It is clearly New Adult. ACOTAR definitely had some moments in it, but this one... It had a lot. More than many other adult books I've read.
No I liked ACOTAR fine. I didn't love it. I was maybe slightly disappointed with it. But I did like it.
We start off three months after the end of ACOTAR. Feyre and Tamlin are getting ready for a Spring Court wedding, but not everything is as wonderful as it once seemed. Even though the curse has been broken, Feyre isn't allowed out of the manor. She begins to feel stifled and starts to waste away. Three months go by before Rhysand finally calls on the bargain he made with her to save her life: one week in the Night Court every month.
Things happen. Lots of things happen (I mean obviously, this book is over 600 pages). So Tamlin kept Feyre locked away from everyone. And I understand why he acted the way he did, but it doesn't make me dislike him any less. He just couldn't see or understand how much he hurt her. And Rhysand was perfect throughout the entire book.
Okay, so I may have a weakness for characters like Rhysand. I fell in love with The Darkling from Leigh Bardugo's Grisha trilogy. And I could not help but fall in love with Rhysand. I may actually love him more than The Darkling. We learn so much about who he is and why he is the way he is.
Before I read this, my favorite read this year had been The Star-Touched Queen, by Roshani Chokshi. And I still absolutely love it. But this completely blew my mind. An amusing coincidence? They're both retellings of the Hades and Persephone myth.
I loved the character growth that Feyre went through. She learned so much about her new fae self and everything she could do. And she learned to heal after the torture she went through with Amarantha.
And that ending? I was in tears for the last three chapters. I need the next book. Now. I don't even.
Okay so here we go.
Reasons to read this book:
1) If you like Sarah's Throne of Glass series, you'll probably enjoy this one too. Just be sure to start with book one lol.
2) Obviously, if you liked ACOTAR. It didn't end super cliffhangery, but of course you want to know why Rhys got so scared at the end and ran away.
3) It's a book about fae.
4) The writing is beautiful.
Reasons not to read this book:
1) If you haven't read the first one yet. You should probably get on that.
2) If you're not comfortable with sex scenes in lit. There are a lot. If this is you, you should probably stick with something that is truly YA.
Overall?
Honestly, I think this was my favorite of all of Sarah J Maas's books. And I have read all seven of them. I loved it. Recommended for the reasons listed above.
Want to see my initial thoughts on ACOTAR? Here's my review.
Want more ACOMAF? Here's Rhysand's Dating Profile