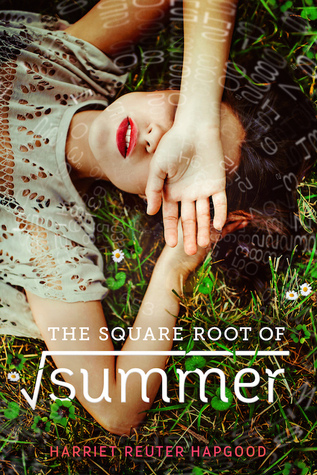 Title:
The Square Root of Summer
Author:
Harriet Reuter Hapgood
Publisher:
Roaring Brook Press
Release Date:
May 3, 2016
This is what it means to love someone. This is what it means to grieve someone. It's a little bit like a black hole. It's a little bit like infinity.

Gottie H. Oppenheimer is losing time. Literally. When the fabric of the universe around her seaside town begins to fray, she's hurtled through wormholes to her past:

To last summer, when her grandfather Grey died. To the afternoon she fell in love with Jason, who wouldn't even hold her hand at the funeral. To the day her best friend Thomas moved away and left her behind with a scar on her hand and a black hole in her memory.

Although Grey is still gone, Jason and Thomas are back, and Gottie's past, present, and future are about to collide—and someone's heart is about to be broken.
This book is very interesting to say the least. It deals a lot with grief and physics (at the same time. Interesting, right?).
I have a fair understanding of physics, but not enough to know if much of the math/theorems/etc were correct. I suppose that's a good thing. While there is a lot of science-speak, it's woven in pretty seamlessly. Things are explained pretty well.
I spent much of the book confused. I think that's how you're supposed to be though. I didn't understand what was happening or why. It wasn't bad. It made me want to know more. Why was all of this happening to Gottie? Why the specific days she goes back to? It was always why. And each page passed with more questions being raised. Until finally it wrapped up into an answer.
Gottie is dealing with grief. And she's dealing with love. Past, present, and future.
Can we take a moment and appreciate the name Hapgood gave her main character? Oppenheimer. I may have laughed when I read the name of such a famous scientist, because it's so fitting. Gottie is excellent at math and physics, always exploring new ideas about the universe.
Okay, so moving on.
Reasons you should read this book
1) You like books with a good brother/sister relationship.
2) It's a real page-turner. Because I had no clue what was going on, I kept wanting more so I could figure everything out.
3) You like the possibility of lost a lost love returning.
4) Physics and/or time travel intrigues you.
Overall?
I really enjoyed it. If it looks interesting, you should definitely give it a go.
Note: I received a copy of this book in exchange for an honest review.