Today is super special, because I was fortunate enough to interview Kerri Maniscalco, author of Stalking Jack the Ripper, an upcoming historical fiction set in Victorian London about the notorious murders. I absolutely loved this book (don't worry, my review is on the way lol), so I can't tell you how excited I was to get to interview Kerri.
So let's get this party started!
_____________________________________________________________
Thank you so much for joining me here. Let's start off with something simple (I hope). Stalking Jack the Ripper draws a lot from history, but Thomas and Audrey Rose have such an interesting dynamic. Did you also draw on Sir Arthur Conan Doyle's The Adventures of Sherlock Holmes?
Thank you so much for having me, Christina! I have always been such a HUGE fan of Sherlock Holmes and the sort of dynamic between Holmes and Watson is probably my favorite as a reader. Since Stalking Jack the Ripper came about from all the things I love—forensics, unsolved history, will they/won't they relationships—I definitely kept Sir Arthur in mind during my drafting. While brainstorming Thomas's character, I imagined what Joseph Bell might have been like as a teen. (Bell was credited with inspiring Doyle's Sherlock.) In fact, there are a few nods to Doyle hidden throughout the book. Nothing major…just a few easter eggs for fun.
For something so detailed in history, I would imagine a lot of research had to be done. What was your writing process like? Do you use a seriously detailed outline, or do you go with the flow from your research (or somewhere in between)?
OH MY GOSH….I DID SO MUCH RESEARCH. I felt it was really, really important to stick to the timeline of events. All of the murders in the book happen on the exact dates/times that are true to history. But then I also wanted to learn as much as I could and stick to forensic facts when it came to the actual murders/crime scenes. I did not want to glorify the atrocities committed against these women—I wanted to capture the people who worked hard behind the scenes, struggling to stop this killer before he could strike again. I wrote out the historical timeline and then I'd let my muse connect the dots. Once I'd written out my characters and their traits and wants, I trusted them to steer the story in the direction it needed to take.
Criminal Minds is one of my favorite shows. I love watching and learning more about serial killers. Do you like Criminal Minds?
You know what?! I've never seen Criminal Minds! I've also maybe only seen an episode of CSI. I'm really into the real life shows that are on the Investigative Discovery channel. Forensic Files, and basically ALL their shows are a serious addiction.
What was one of the aspects of the Jack the Ripper case that interested you most?
Oh! The fact that it's unsolved was one of the most interesting parts for me. My grandma was a huge fan of whodunits, and once I figured out that I wanted to write a YA CSI it seemed like the ultimate case to write about. The idea kept growing on me the more I fleshed out my heroine. I realized having her be restricted by her gender and her role in society created immediate tension on the page. I thought it might be really fantastic to have this girl fighting what was considered "normal" or acceptable, and have her potentially solve one of the biggest mysteries of all time.
This isn't really a question, but I love your cover. Who designed it?
Thank you! I adore it too! Our art director/department at Little Brown designed it, and the image of the cover model was shot by the same photographer who did the FINISHING SCHOOL series by Gail Carriger. I was able to pick out the model and gush over the clothes and accessories while they did the photoshoot—my editor is the best!
Thomas was easily my favorite character. He's hilariously snarky and blunt to the point that Audrey Rose thinks he's lying. Is there someone you know like this?
Haha, thank you! I know he'd be preening right now at the compliment! I don't know anyone like this, but always wanted to create a character who toed the line of how honest is too honest. I think Audrey is so used to Victorian censorship, that she immediately believes there's no way someone could be so unrestricted with their emotions. Especially when Thomas is normally accused of being an automaton by their peers.
So this will be a trilogy. Will we be solving more crimes in the next book? (I'm not asking for spoilers!)
Yes! SJTR is the first in the new series and each book will have its own crime that they're solving and will also have a new setting. I've always had a plan of SJTR being the lead in a series of murder adventures/thrillers featuring infamous killers, and tried crafting it in a way that will allow the characters room to grow from one story to the next. Book two starts off the week following the end of SJTR and it's been quite an adventure!
I feel like this was probably discussed during the #BBTC chat for Stalking Jack the Ripper, but kissing books: yay or nay? Do you prefer romance in a novel?
I love reading a great kissing book, but I'm also okay with there being little to no romance, too. I think it's whatever feels the most organic for the story or characters. For SJTR I really wanted to capture the beginning stages of their friendship and watch it blossom as they spent more time together. Plus, since it's set in the 1880s, I didn't want the romance to overshadow the innocence in courtship. Book two, well, that's a whole different story ;)
And finally, I'd like to end on a random note. What do you think Thomas would make of our world today if he suddenly got thrust into the future?
I think Thomas would absolutely love certain aspects of technology, especially where solving crimes or making breakthroughs in medicine are concerned. I do think it'd be a double-edged sword for him, though. I can't really picture him posting selfies or maintaining an online presence…actually, he might surprise me and become a selfie king.
Wow. I could actually totally see Thomas being such a selfie king.
_____________________________________________________________
About the book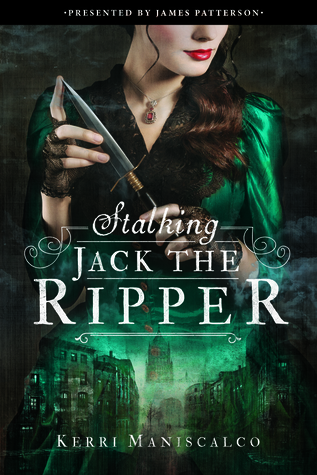 Title:
Stalking Jack the Ripper
Author: Kerri Maniscalco
Pages: 336
Publisher: Jimmy Patterson
Release Date: September 20, 2016
Presented by James Patterson's new children's imprint, this deliciously creepy horror novel has a storyline inspired by the Ripper murders and an unexpected, blood-chilling conclusion...

Seventeen-year-old Audrey Rose Wadsworth was born a lord's daughter, with a life of wealth and privilege stretched out before her. But between the social teas and silk dress fittings, she leads a forbidden secret life.

Against her stern father's wishes and society's expectations, Audrey often slips away to her uncle's laboratory to study the gruesome practice of forensic medicine. When her work on a string of savagely killed corpses drags Audrey into the investigation of a serial murderer, her search for answers brings her close to her own sheltered world.
The story's shocking twists and turns, augmented with real, sinister period photos, will make this dazzling debut from author Kerri Maniscalco impossible to forget.
_____________________________________________________________
About the Author
Kerri Maniscalco grew up in a semi-haunted house outside NYC where her fascination with gothic settings began. In her spare time she reads everything she can get her hands on, cooks all kinds of food with her family and friends, and drinks entirely too much tea while discussing life's finer points with her cats.
STALKING JACK THE RIPPER, her debut YA gothic horror, is coming September 20, 2016 from JIMMY Patterson Books/Little, Brown. It's the first in a new series and incorporates her love of forensic science and unsolved history.
_____________________________________________________________
Want to know where Kerri is touring and/or win a copy? She's running a giveaway over on twitter right now!