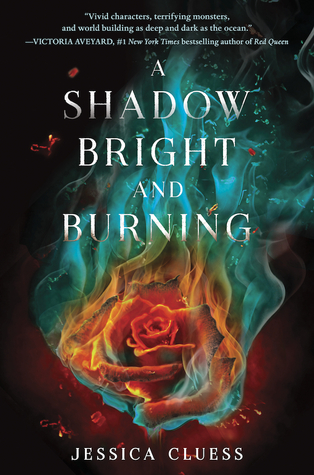 Title:
A Shadow Bright and Burning
Author:
Jessica Cluess
Publisher:
Random House BFYR
Release Date:
September 20, 2016

I am Henrietta Howel. The first female sorcerer. The prophesied one. Or am I?

Henrietta Howel can burst into flames. When she's brought to London to train with Her Majesty's sorcerers, she meets her fellow sorcerer trainees, young men eager to test her powers and her heart. One will challenge her. One will fight for her. One will betray her. As Henrietta discovers the secrets hiding behind the glamour of sorcerer life, she begins to doubt that she's the true prophesied one. With battle looming, how much will she risk to save the city—and the one she loves?
I love the premise of this book. "The chosen one" trope has been done over and over. So when I saw that our main character is not that, I was supremely excited.
Henrietta has had the magic of fire her whole life, but women with magic are executed as witches. So she must hide her powers. Unfortunately, when a Sorcerer comes to the school she teaches at, she has to use them to save her friend. The Sorcerer sees and takes her, surprisingly, back to his home in London to train as the first female Sorcerer in a very long time.
So let's get down to it. I am not a fan of the ship in this book. I have a different ship in mind, and I'm very hopeful for it possibly working out further down the road. But I don't like the ship that is insinuated here. On that point, let's talk about the characters. Blackwood is a broody boy who slowly befriends and aids Henrietta in her studies as a Sorcerer. Magnus, another student, helps as well. But he always seemed a little shifty to me. Henrietta is really an awesome and strong character, and she refuses to be put down upon because she's a girl living in Victorian London.
Did I forget to mention that? This is historical fantasy! It may be an overdone era, but it's one of the best eras for historical. The world is interested and magical and I would love to know more. I don't understand everything about it, but I feel like Cluess will be giving us more info as the books go on.
I have a few theories about the end and some of the implications. It seems that there are some twists woven in down the road. I guess we shall see.
Reasons to read this book
1) Magic!
2) Victorian London
3) A kickass female heroine
Reasons not to read this book
1) The ship is meh
2) A slightly slow start
Overall
This was a decent beginning to a series, and even though it starts a bit slow, it picks up and quickly becomes fast-paced. Once I got into the action, I couldn't put it down. I would recommend if you like magic in your history.
Note: I received a copy of this book in exchange for an honest review.