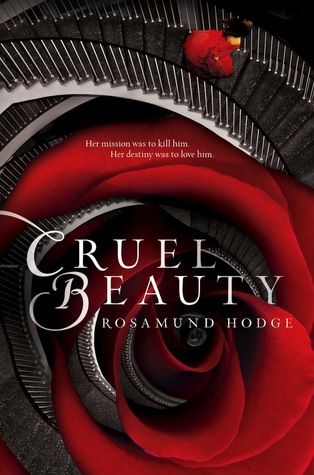 Title:
Cruel Beauty
Author:
Rosamund Hodge
Publisher:
Balzer + Bray
Release Date:
January 28, 2015
The romance of Beauty and the Beast meets the adventure of Graceling in a dazzling fantasy novel about our deepest desires and their power to change our destiny. For fans of bestselling authors Kristin Cashore and Alex Flinn, this gorgeously written debut infuses the classic fairy tale with glittering magic, a feisty heroine, and a romance sure to take your breath away.

Betrothed to the evil ruler of her kingdom, Nyx has always known that her fate was to marry him, kill him, and free her people from his tyranny. But on her seventeenth birthday when she moves into his castle high on the kingdom's mountaintop, nothing is what she expected—particularly her charming and beguiling new husband. Nyx knows she must save her homeland at all costs, yet she can't resist the pull of her sworn enemy—who's gotten in her way by stealing her heart.
This book was an interesting mix of Beauty and the Beast and Greek mythology. I love fairy-tale retellings and I love books with mythology, so where could you go wrong?
The world that Hodge created was so cut off from science and technology, they needed another source of intelligence and power to survive. Introduce Hermeticism. To read more about what this actually is, you can visit the wiki page on it
here.
The people are now able to survive in a world where you cannot see the sky, a world where demons cross into the realm and rip peoples' minds from them.
As the heroine of the story Nyx was a wonderful character, because she wasn't just inherently good or completely intent on always doing the right thing. She was bitter and mean and more realistic for it. Ignifex, as a contrast, was a rather weak character (as I think he should be). He was cowardly to do anything to change his life. He refused to look and see information that is right in front of him. And he purposely forgot his name every night after being whispered it over and over, even though it would free him from his curse. His strength comes from
spoiler
his other half, Shade. Once the curse was broken and they were put back together as Lux, he was much stronger and wiser for it.
end spoiler
So what did I think?
I think that Hodge created a wonderfully dark world. The novel wasn't an obvious retelling of
Beauty and the Beast
, which makes it even better. I really enjoyed the story and the writing. Did I love it? Not quite, but I did really like it. Recommended to fantasy fans everywhere.