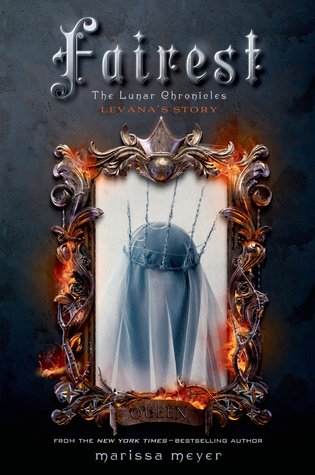 Title:
Fairest
Author
: Marissa Meyer
Publisher
: Feiwel & Friends
Release Date:
Jan 27, 2015
Mirror, mirror, on the wall.

Who is the Fairest of them all?

Pure evil has a name, hides behind a mask of deceit, and uses her "glamour" to gain power. But whois Queen Levana? Long before she crossed paths with Cinder, Scarlet, and Cress in The Lunar Chronicles, Levana lived a very different story--a story that has never been told . . . until now.

New York Times -bestselling author Marissa Meyer reveals the story behind her fascinating villain inFairest, an unforgettable tale about love and war, deceit and death. This extraordinary book includes a special full-color image of Levana's castle and an excerpt from Winter, the exciting conclusion to The Lunar Chronicles.
Unfortunately, I have a monster headache while writing thing review. But the reviews must go on.
This book... Wow.
This was such a great prequel to The Lunar Chronicles I don't even know where to start. Yes, Levana is absolutely crazy. But did anyone was feel really sorry for her at certain spots in the book? Here's the question: nature vs nurture?
Levana definitely grew up to be a product of her environment (and I mean that also as nature being that she was innately lunar). First, you have someone who is lunar and maybe not so completely stable. She is ignored by her parents and not ever shown any love. Then add in her sister Channary torturing her whenever she can. The girl grew up with terrible scars, completely self-conscious. She had no friends. Is it such a surprise that she would mistake a small gesture of kindness as something more?
I do feel bad for her. The novella explores Levana's history starting when she was sixteen years old. It explains what exactly happened to Cinder and how Levana became queen. It's pretty short so this review will be as well. I enjoyed it, but I would have liked more. I would have liked to see Levana go slightly more insane to become the cold-hearted woman she is in the current day Lunar Chronicles.
So what did I think? I really liked it. More would have been nice. But I'm not complaining. I haven't read the excerpt from Winter yet though. I am really excited for that one to come out.