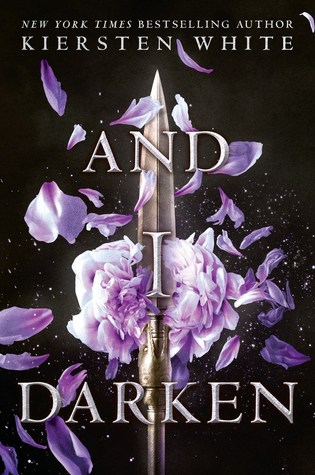 Title:
And I Darken
Author:
Kiersten White
Publisher:
Delacorte Press
Release Date:
June 28, 2016

NO ONE EXPECTS A PRINCESS TO BE BRUTAL.

And Lada Dragwlya likes it that way. Ever since she and her gentle younger brother, Radu, were wrenched from their homeland of Wallachia and abandoned by their father to be raised in the Ottoman courts, Lada has known that being ruthless is the key to survival. She and Radu are doomed to act as pawns in a vicious game, an unseen sword hovering over their every move. For the lineage that makes them special also makes them targets.

Lada despises the Ottomans and bides her time, planning her vengeance for the day when she can return to Wallachia and claim her birthright. Radu longs only for a place where he feels safe. And when they meet Mehmed, the defiant and lonely son of the sultan, who's expected to rule a nation, Radu feels that he's made a true friend—and Lada wonders if she's finally found someone worthy of her passion.

But Mehmed is heir to the very empire that Lada has sworn to fight against—and that Radu now considers home. Together, Lada, Radu, and Mehmed form a toxic triangle that strains the bonds of love and loyalty to the breaking point.

From New York Times bestselling author Kiersten White comes the first book in a dark, sweeping new series in which heads will roll, bodies will be impaled . . . and hearts will be broken.
This book comes with a lot of hype. So, unpopular opinion time:
I wasn't in love with this book. In fact, I nearly DNF'd it. This book is too long. The first 150 pages or so were so slow and lacked any perceivable plot, it was very difficult to get through. In fact, it was so much character development that I just didn't care about. The entire first section could have been completely cut out or reincorporated elsewhere into the book. Either way, it should not have been there.
That said, while I was reading and nearly dying of boredom, I said, "one more chapter, then I'm putting this thing down." Alas, one more chapter was all it took to finally pick up. So if you can make it through the first 30% of the book, you're golden. From this point, it was fast paced and not only character driven, but plot driven as well.
So what about the characters? I feel like Lada should be my favorite, but she wasn't. She was short-sighted and didn't understand how things worked. Radu, however, because a master manipulator. And yet, I hated him as a child. He was such a weak character as a child, I can't quite reconcile the two together. Another reason that first section shouldn't be in there.
And Mehmed? Well, I was disappointed with him. I can't even say specifically what for. But he was a disappointment of a love interest. And I get it. Lada and Radu both love him. But ugh. Every other sentence doesn't have to be how he's the sun and you're the planet. We get it.
The ending was rage-inducing, not because it was a cliff-hanger (which was only minor), but because the the choices the characters made. Still, I mostly enjoyed the story once I got past the super slow part.
Overall
If you want to read this, I would honestly recommend reading the first two chapters then skimming for a while. The plot--once it finally came into play--was very interesting and enjoyable. But this book wasn't really for me.
Note: I received this book in exchange for an honest review.