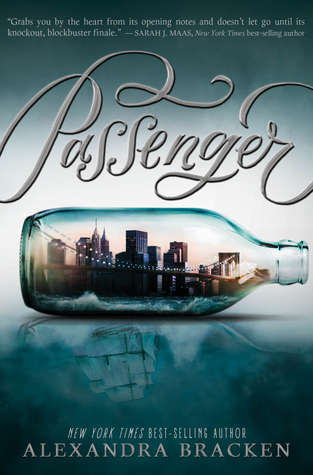 Title:
Passenger
Author:
Alexandra Bracken
Publisher:
Disney-Hyperion
Release Date:
January 5, 2016
Passage, n.
i. A brief section of music composed of a series of notes and flourishes.
ii. A journey by water; a voyage.
iii. The transition from one place to another, across space and time.

In one devastating night, violin prodigy Etta Spencer loses everything she knows and loves. Thrust into an unfamiliar world by a stranger with a dangerous agenda, Etta is certain of only one thing: she has traveled not just miles but years from home. And she's inherited a legacy she knows nothing about from a family whose existence she's never heard of. Until now.

Nicholas Carter is content with his life at sea, free from the Ironwoods—a powerful family in the colonies—and the servitude he's known at their hands. But with the arrival of an unusual passenger on his ship comes the insistent pull of the past that he can't escape and the family that won't let him go so easily. Now the Ironwoods are searching for a stolen object of untold value, one they believe only Etta, Nicholas' passenger, can find. In order to protect her, he must ensure she brings it back to them—whether she wants to or not.

Together, Etta and Nicholas embark on a perilous journey across centuries and continents, piecing together clues left behind by the traveler who will do anything to keep the object out of the Ironwoods' grasp. But as they get closer to the truth of their search, and the deadly game the Ironwoods are playing, treacherous forces threaten to separate Etta not only from Nicholas but from her path home... forever.
It took me a long time to read this book. I started it back in January and had to set it aside for reasons. But I would be lying if I said I rushed back to it when I had time.
This book... It started off pretty slow. So I wasn't in the biggest hurry to get back to it.
If you're expecting something like The Darkest Minds, really, this is nothing like her previous series. This book is longer, more complex, and still really neat. It took me a little while, but I did get really into the story and the characters. You can tell from the settings and events that Bracken truly loves history. It's always fun to learn something new while reading.
As for the characters, it's really nice to see some diversity in YA fiction. Having one of the main characters literally a former slave and dealing with all the prejudices of 1776... Interesting. And I love how reserved he is about falling for Etta. It's not allowed in his time. And while things aren't perfect now, a relationship like that is perfectly fine these days. So of course, Etta doesn't understand a lot of the things he is sensitive about.
So, this book has been called a scavenger hunt through time. Definitely true. And if I knew more about history, I'd probably be able to decipher some of the clues Bracken gives before the characters do. Unfortunately, I slept through most of my history classes. Still... Time travel! The way this was executed was actually really cool, because there are so many paradoxes that time travel brings up. She tried to keep them to a minimum.
This book kept me surprised. While there were definitely some things I expected, others I just did not see coming.
Overall
Maybe a bit of a rocky start, but I'm glad I finished it. It definitely picked up, and I mostly enjoyed it from there. Recommended if you like time travel books. Or if you are just a fan of Alex Bracken.