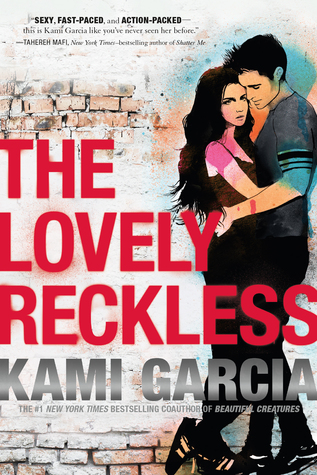 Title:
The Lovely Reckless
Author:
Kami Garcia
Publisher:
Imprint
Release Date:
October 4, 2016

Seventeen-year-old Frankie Devereux would do anything to forget the past. Haunted by the memory of her boyfriend's death, she lives her life by one dangerous rule: Nothing matters. At least, that's what Frankie tells herself after a reckless mistake forces her to leave her privileged life in the Heights to move in with her dad—an undercover cop. She transfers to a public high school in the Downs, where fistfights don't faze anyone and illegal street racing is more popular than football.

Marco Leone is the fastest street racer in the Downs. Tough, sexy, and hypnotic, he makes it impossible for Frankie to ignore him—and how he makes her feel. But the risks Marco takes for his family could have devastating consequences for them both. When Frankie discovers his secret, she has to make a choice. Will she let the pain of the past determine her future? Or will she risk what little she has left to follow her heart?
I was still kind of in a reading slump when I started this, but when I was done I was completely out. I read this book entirely in one sitting.
I've seen people comparing The Lovely Reckless to Romeo and Juliet. Well, maybe a little? But I wouldn't really go so far as to compare them. They have similarities. For example: Frankie and Marco are from different sides of the tracks, Frankie's dad does not like Marco, and they instantly fall in love. Most everything else is fairly different.
What did I say about instalove back there? Oh yea, it's totally in here. It was honestly the only thing that really annoyed me about the book. There were some awesome things, like views of inner city living and such. Frankie wasn't a whiney little girl. Instead, she accepted she did something wrong and takes the blame. And she was constantly trying to right the wrong, even while suffering from PTSD.
So we read about Frankie dealing with her PTSD and remembering little things one by one. Things about the night of her boyfriend's murder.
This book is fairly dark. It was kind of crushing to read some of the things she described. Memories about watching her boyfriend being murdered.
Reasons to read this book
1) It deals with PTSD
2) There are some awesome friendships
3) Awesome car races
Reasons not to read this book
1) Instalove
2) Some stereotypical representation of Latinos (namely Puerto Ricans)
Overall
My only real complaint was the instalove. Aside from that, it was a fairly enjoyable and super quick read.
Note:I received a copy of this book in exchange for n honest review.