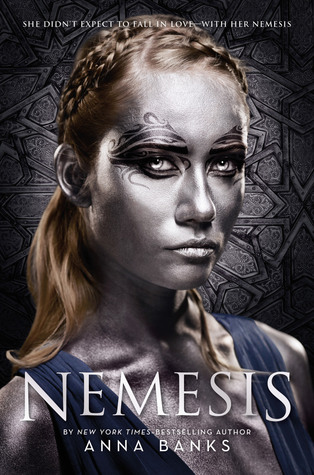 Title:
Nemesis
Author:
Anna Banks
Publisher:
Feiwel & Friends
Release Date:
October 4, 2016
The princess didn't expect to fall in love--with her nemesis.

Princess Sepora of Serubel is the last Forger in all the five kingdoms. The spectorium she creates provides energy for all, but now her father has found a way to weaponize it, and his intentions to incite war force her to flee from his grasp. She escapes across enemy lines into the kingdom of Theoria, but her plans to hide are thwarted when she is captured and placed in the young king's servitude.

Tarik has just taken over rulership of Theoria, and must now face a new plague sweeping through his kingdom and killing his citizens. The last thing he needs is a troublesome servant vying for his attention. But mistress Sepora will not be ignored. When the two finally meet face-to-face, they form an unlikely bond that complicates life in ways neither of them could have imagined.

Sepora's gift could save Tarik's kingdom from the Quiet Plague. But should she trust her growing feelings for her nemesis, or should she hide her gifts at all costs?
I wasn't totally certain about this one before I read it. It had been going around the book community, and it looked interesting, but I wasn't sure, and I think that's partially because I do not like the cover. At all.
So this is the story of a girl who is forced to forge an element called spectorium, because her father is king and said element has a lot of uses--lighting, energy, and now even more importantly helping to cure a mystery disease. But the king plans to use her to begin a war and locks her away, forcing her to forge. So when she gets her chance, she escapes and runs straight to the kingdom she has always considered her enemy.
I must admit, I thought the start was a tad bit slow. But very quickly I was swept up in the story and learning about the kingdom Theoria at the same time as Sepora. Seeing her navigate all new customs and traditions was fun since the reader learns about them when she does. Tarik was not what she expected, but he was just perfect. I loved how the romance between them was such a slow burn with constant push and pull.
The world building was awesome. We got to learn about each of the different kingdoms when they were compared to Sepora's own kingdom Serubel, as well as when Tarik compared them to Theoria. Not to mention the parani--carnivorous creatures residing in the river--being more than they initially seem. And seeing the characters go through all the different discoveries of new elements and different cures for the Quiet Plague was great.
Reasons to read this book
1) Awesome worldbuilding
2) A swoon-worthy romance
3) The characters are very likable
4) Great plot
Reasons not to read this book
1) You don't like fantasy
Overall
It was an excellent and beautifully written story, and I loved the ending. I can't wait for the next book in the series. Ignore the ugly cover, this book is worth the read.
Note: I received a copy of this book in exchange for an honest review.