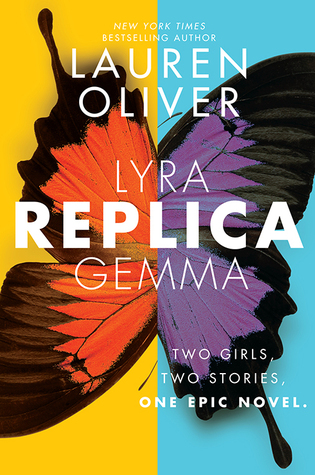 Title:
Replica
Author:
Lauren Oliver
Publisher:
HarperCollins
Release Date:
October 4, 2016
Gemma has been in and out of hospitals since she was born. 'A sickly child', her lonely life to date has revolved around her home, school and one best friend, Alice. But when she discovers her father's connection to the top secret Haven research facility, currently hitting the headlines and under siege by religious fanatics, Gemma decides to leave the sanctuary she's always known to find the institute and determine what is going on there and why her father's name seems inextricably linked to it.

Amidst the frenzy outside the institute's walls, Lyra - or number 24 as she is known as at Haven - and a fellow experimental subject known only as 72, manage to escape. Encountering a world they never knew existed outside the walls of their secluded upbringing , they meet Gemma and, as they try to understand Haven's purpose together, they uncover some earth-shattering secrets that will change the lives of both girls forever...
I was very excited to receive an early copy of this at ALA. It's been really hyped, and I must say I was entirely curious about it. There are multiple ways Replica can be read. You can read Gemma or Lyra first, moving on to the other after you've finished one's story. Or as I did, you can read in alternating chapters between the two girls.
Honestly, I would suggest reading alternating chapters. Lyra is a clone at Haven, a secret research facility in Florida. One night, there is an escape, and eventually everything Lyra knows to be true--that she isn't human and doesn't deserve love--is called into question. Gemma is a self-deprecating girl whose father has past ties to the Haven facility. When her father decides not to allow her to go to Florida on spring break, she's determined to learn more about this mysterious connection.
Of course, it's fairly obvious from the beginning that the two girls will eventually meet. Lyra has a very interesting and intriguing story from the start. From the beginning I wanted to know more about the clones, how they came to be, what's being done with them. It's a mystery all on its own. Gemma's early chapters I found a bit more boring. They might appeal more to someone who is a huge contemporary fan. But as the book went on, I found myself biting my nails and wanting to know what would happen to both girls.
I found myself being completely taken with Gemma and perhaps a little annoyed with Lyra. Her inability to trust grated on my nerves after so many times she got herself into more trouble by turning away help.
There is a thing in this book I found fairly predictable. And I wish it were not so. If Oliver had gone the other way, it would have completely changed the story and left me cursing and wondering.
Reasons to read this book
1) It's two books in one!
2) There is a bit of romance that doesn't overshadow the plot
3) Things twist together to form something complex
4) Conspiracy theories!
5) Very light science fiction
Reasons not to read this book
1) Some very predictable points
2) The stories are each slow at some points
Overall
I really liked it. It's not my favorite book by Lauren Oliver, but it's full of vivid characters and such a complex plot. I would recommend it to most anyone.
Note: I received a copy of this book in exchange for an honest review.