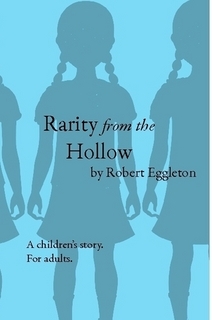 Title:
Rarity from the Hollow
Author:
Robert Eggleton
Publisher:
Dog Horn Publishing
Release Date:
March 6, 2012
Lacy Dawn is a little girl who lives in a magical forest where all the trees love her and she has a space alien friend who adores her and wants to make her queen of the universe. What's more, all the boys admire her for her beauty and brains. Mommy is very beautiful and Daddy is very smart, and Daddy's boss loves them all.

Except.

Lacy Dawn, the eleven year old protagonist, perches precariously between the psychosis of childhood and the multiple neuroses of adolescence, buffeted by powerful gusts of budding sexuality and infused with a yearning to escape the grim and brutal life of a rural Appalachian existence. In this world, Daddy is a drunk with severe PTSD, and Mommy is an insecure wraith. The boss is a dodgy lecher, not above leering at the flat chest of an eleven-year-old girl.

Yes, all in one book.

It is a children's story for adults with a happily ever after ending.
Have you ever read a book that has so many horrific things happen that you're not sure you can read on? That is Rarity from the Hollow.
The book is raw and has a lot of emotion. It's brutal. And unfortunately, I don't have a very strong stomach when it comes to the things talked about in the book. I had to put it down, much to my chagrin. I wanted to read on. The story was interesting, and I was enjoying the writing. But I could not handle a lot of the violence and domestic abuse. That one's on me.
And so I can't form a full opinion. I think I would really like this book if I could get through the violence. I've been told it dissipates more throughout. I can say that the plot had me curious to read on. And the world building was definitely there. I think the book is certainly worth a shot if you have a strong stomach for violence.

Note: I received a copy of this book in exchange for an honest review.