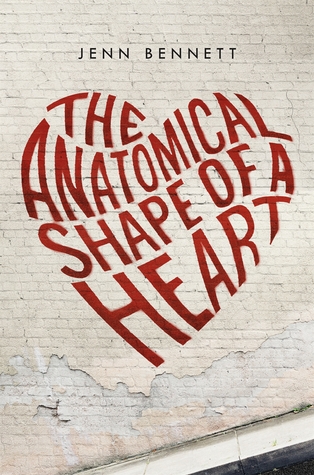 Title:
The Anatomical Shape of a Heart
Author:
Jenn Bennett
Publisher:
Feiwel & Friends
Release Date:
November 3, 2015
Goodreads:
Click Here!
Artist Beatrix Adams knows exactly how she's spending the summer before her senior year. Determined to follow in Leonardo da Vinci's footsteps, she's ready to tackle the one thing that will give her an advantage in a museum-sponsored scholarship contest: drawing actual cadavers. But when she tries to sneak her way into the hospital's Willed Body program and misses the last metro train home, she meets a boy who turns her summer plans upside down.

Jack is charming, wildly attractive . . . and possibly one of San Francisco's most notorious graffiti artists. On midnight buses and city rooftops, Beatrix begins to see who Jack really is—and tries to uncover what he's hiding that leaves him so wounded. But will these secrets come back to haunt him? Or will the skeletons in Beatrix's own family's closet tear them apart?
________________________________________________________________
I don't generally read a lot of contemporary but damn. I read this... in one sitting. Could not put it down.
The book follows the life of a young artist who wants to draw medical diagrams for a living. Okay, much of this book is gruesome and slightly morbid. Especially the descriptions of some of her sketches. But it's in a good way. Seriously.
Enter Jack.
He's the cute guy that pays attention to Bex, even with her creepy fascination with drawing human anatomy. He's also the guy that is full of secrets. Queue romance.
This book is about romance, art, and family. Bex's voice as a narrator was funny and sarcastic. And she always had something insightful or witty to add. I was a joy to read her perspective. And I wonder how things would have looked if the book were written from Jack's perspective.
Characters are generally my favorite part of a book. And here was no exception. They were all well-rounded and multi-dimensional. So it was wonderful learning more and more about the character backstories, their families, etc. No one is perfect. And it was great reading about all their little imperfections and problems.
Overall?
I loved it. As I said, I couldn't put it down. If you like contemporary and are comfortable reading about sex (this book talks about it a lot), go read this now!
Note: I received a copy of this book in exchange for an honest review.



________________________________________________________________
About the Author
Jenn Bennett is the author of the Arcadia Bell urban fantasy series with Pocket and the Roaring 20's historical paranormal romance series with Berkley. She lives near Atlanta with one husband and two pugs.


________________________________________________________________

Rafflecopter Giveaway!


a Rafflecopter giveaway