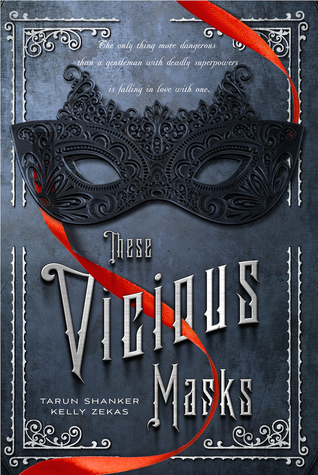 Title:
These Vicious Masks
Author:
Tarun Shanker & Kelly Zekas
Publisher:
Swoon Reads
Release Date:
February 9, 2016
Jane Austen meets X-­Men in this gripping and adventure-­filled paranormal romance set in Victorian London.

England, 1882. Evelyn is bored with society and its expectations. So when her beloved sister, Rose, mysteriously vanishes, she ignores her parents and travels to London to find her, accompanied by the dashing Mr. Kent. But they're not the only ones looking for Rose. The reclusive, young gentleman Sebastian Braddock is also searching for her, claiming that both sisters have special healing powers. Evelyn is convinced that Sebastian must be mad, until she discovers that his strange tales of extraordinary people are true—and that her sister is in graver danger than she feared.
This book. Was everything I wanted and more.
Pride and Prejudice with super powers. That's what it is. Described as Jane Austen meets X-Men. Well that is a perfect description. And I loved it.
You know that feeling you get when you have to put down a book to do something. But you get itchy and antsy and keep thinking, "Ugh I just want to go back and read!" All the while you can't stop thinking about the book. Yes. That is the feeling I got while reading These Vicious Masks.
This is the first book in a new trilogy. And while there wasn't a huge cliffhanger, I absolutely cannot wait until the next book comes out. I don't want to say too much for fear of spoiling it. The synopsis does a really fantastic job. But I will say that there were twists I wasn't expecting and a swoon-worthy love interest.
These Vicious Masks went above and beyond anything I could have expected. As a lover of Austen novels, this was the perfect read for me.
Overall
I am absolutely in love with this book. I cannot wait until the second comes out. If you like Jane Austen novels and novels with a slight fantastical twist this one is for you.

Note: I received a copy of this book in exchange for an honest review, and that in no way sways my opinion of this book.