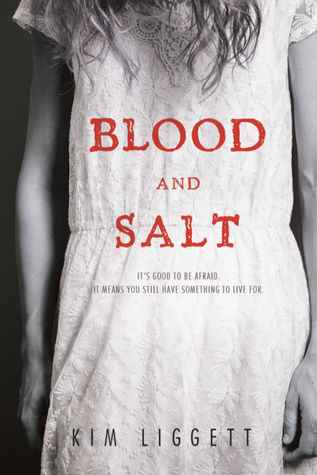 Title:
Blood and Salt
Author:
Kim Liggett
Publisher:
G.P. Putnam's Sons Books for Young Readers
Release Date:
September 22, 2015
Romeo and Juliet meets Children of the Corn in this one-of-a-kind romantic horror.

"When you fall in love, you will carve out your heart and throw it into the deepest ocean. You will be all in—blood and salt."

These are the last words Ash Larkin hears before her mother returns to the spiritual commune she escaped long ago. But when Ash follows her to Quivira, Kansas, something sinister and ancient waits among the rustling cornstalks of this village lost to time.

Ash is plagued by memories of her ancestor, Katia, which harken back to the town's history of unrequited love and murder, alchemy and immortality. Charming traditions soon give way to a string of gruesome deaths, and Ash feels drawn to Dane, a forbidden boy with secrets of his own.

As the community prepares for a ceremony five hundred years in the making, Ash must fight not only to save her mother, but herself—and discover the truth about Quivira before it's too late. Before she's all in—blood and salt.
Well, one thing I can say is that the comparison to
Romeo and Juliet
and
Children of the Corn
is pretty spot on. The story centers around Ashlyn, a supposed conduit whose mother is from Quivira. She keeps having visions of her ancestors. When her mother disappears, she and her twin brother follow her, thinking she must have gone back to Quivira.
I liked the plot. It was interesting, full of twists, and it was kind of creepy. But for some reason, I had trouble staying interested. And I think that was mainly because of Dane. I just didn't care about him. From the moment he was introduced at the border of Quivira, it was teenage insta-love. And that just got under my skin. I mean, this entire book takes place over like a week. So I really just couldn't feel any connection to Dane. I was with Rhys: stay away from him!
The other thing that was interesting about Blood and Salt was the visions. I interpreted them completely differently from Ash. She would have a vision and say something like: it seemed like this was the only choice she had. My thoughts were: oh wow what a psycho she has to be stopped! But I did like getting to see little snippets of the past. Especially since they could be misleading at times.
My opinion overall
I enjoyed it well enough. I especially liked all the plot twists (this book is twisty!), even though some were easy to see. It was just creepy enough but not overly so. I just couldn't enjoy the romance. Recommended to fans of the weird and creepy.

Note: I received a copy of this book in exchange for an honest review.