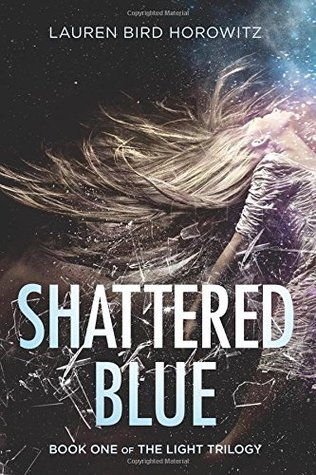 Title:
Shattered Blue
Author:
Lauren Bird Horowitz
Publisher:
Skyscape
Release Date:
September 15, 2015

For Noa and Callum, being together is dangerous, even deadly. From the start, sixteen-year-old Noa senses that the mysterious transfer student to her Monterey boarding school is different. Callum unnerves and intrigues her, and even as she struggles through family tragedy, she's irresistibly drawn to him. Soon they are bound by his deepest secret: Callum is Fae, banished from another world after a loss hauntingly similar to her own.

But in Noa's world, Callum needs a special human energy, Light, to survive; his body steals it through touch—or a kiss. And Callum's not the only Fae on the hunt. When Callum is taken, Noa must decide: Will she sacrifice everything to save him? Even if it means learning their love may not be what she thought?
This book was very interesting, to say the least. When I started it, it had been a while since I had read the synopsis. And so at first I thought I was reading a contemporary. I was very wrong. But in a good way (I love fantasy, especially books about fae).
Noa is grieving her dead sister. Her family seems almost broken, except for toddler Sasha, who doesn't know any better than to just be happy. Along comes Callum to take Noa's mind off everything and everyone. It did bother me a little about their insta-love. But it didn't seem as bad as it can in some novels that the characters just declare their love as soon as they meet. There was interest and attraction, and a date or two. But it was still pretty quick.
Soon, enter Judah - Callum's younger brother who seems to be quite the troublemaker. Once Callum is taken, Judah and Noa fight to find and retrieve him. And queue love triangle. Yes, this love triangle was a bit awkward. But it was probably meant to be since it involved two brothers. I wouldn't want to be in that situation. And honestly, I liked Callum from the beginning. But I also really liked Judah. I can't be totally sure which one I liked better. Throughout the book, we see more of Judah, and a lot more of his character development, so possibly him. But that just makes the twist and the cliffhanger at the end even more heart-wrenching.
Overall?
I found this to be a really enjoyable read. And I'm certainly going to pick up the next book.
Note: I received a copy of this book in exchange for an honest review.