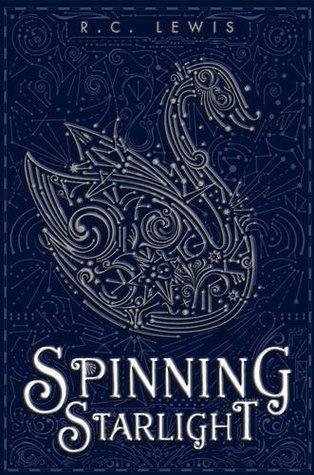 Title:
Spinning Starlight
Author:
R.C. Lewis
Publisher:
Disney Hyperion
Release Date:
October 6, 2015
Sixteen-year-old heiress and paparazzi darling Liddi Jantzen hates the spotlight. But as the only daughter in the most powerful tech family in the galaxy, it's hard to escape it. So when a group of men show up at her house uninvited, she assumes it's just the usual media-grubs. That is, until shots are fired.

Liddi escapes, only to be pulled into an interplanetary conspiracy more complex than she ever could have imagined. Her older brothers have been caught as well, trapped in the conduits between the planets. And when their captor implants a device in Liddi's vocal cords to monitor her speech, their lives are in her hands: One word and her brothers are dead.

Desperate to save her family from a desolate future, Liddi travels to another world, where she meets the one person who might have the skills to help her bring her eight brothers home-a handsome dignitary named Tiav. But without her voice, Liddi must use every bit of her strength and wit to convince Tiav that her mission is true. With the tenuous balance of the planets deeply intertwined with her brothers' survival, just how much is Liddi willing to sacrifice to bring them back?

Haunting and mesmerizing, this retelling of Hans Christian Andersen'sThe Wild Swans strings the heart of the classic with a stunning, imaginative world as a star-crossed family fights for survival in this companion to Stitching Snow.
Not gonna lie. This book was pretty fantastical. I buzzed through it so quickly.
The story was fully engaging. And I truly felt for the heroine - thinking she was stupid because she was the black sheep of the family, unable to find answers, always having to go against everyone to so what is absolutely right. Being in her mind could be hilarious at times, as she constantly thinks of news feeds and media casts that would broadcast her situation. The amusing headlines are certainly one of the more comical aspects of the book.
At times, I felt like the writing was a bit awkward. But that seems the curse of the first person present narrative.
I loved the romance in this story. It wasn't a love story, but it had a side-plot with one. And that makes books all the better for me. Especially with how Tiav was able to get to know Liddi, considering she was unable to speak. Through gestures and facial expressions, she seemed to develop her own language with him, making a love story all the more believable.
There are so many things about this book. The Khua, the different worlds, the different alien races. Even if you're not big on fairy-tale retellings, this one is wonderful because it's so rarely told. And if you like science fiction in your YA, this is totally for you.
Overall?
I really enjoyed this book and will soon be adding it to my shelves.
Note: I received a copy of this book from NetGalley in exchange for an honest review.