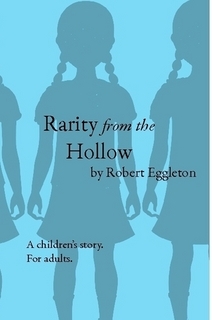 Title:
Rarity from the Hollow
Author:
Robert Eggleton
Publisher:
Dog Horn Publishing
Release Date:
March 16, 2012
Lacy Dawn is a true daughter of Appalachia, and then some. She lives in a hollow with her worn-out mom, her Iraq War disabled dad, and her mutt Brownie, a dog who's very skilled at laying fiber optic cable. Lacy Dawn's android boyfriend has come to the hollow with a mission. His equipment includes infomercial videos of Earth's earliest proto-humans from millennia ago. He was sent by the Manager of the Mall on planet Shptiludrp (Shop 'till You Drop): he must recruit Lacy Dawn to save the Universe in exchange for the designation of Earth as a planet which is eligible for continued existence within a universal economic structure that exploits underdeveloped planets for their mineral content. Lacy Dawn's magic enables her to save the universe, Earth, and, most importantly, her own family.
So let's get down to it!
Describe your book in one word.
Empowerment


What inspired you to write Rarity from the Hollow?


Since winning the eighth grade short story contest in 1964, I've dreamed of being
a writer. Except for a couple of poems published in the early '70s, I supplanted my need
to write fiction by concentrating on nonfiction publications related to my work, child
advocacy: social services manuals, research, investigative, and statistical reports, you
know – the stuff that sidetracks the dreams of aspiring authors. In 2002, I took a job as a
children's psychotherapist at our local mental health center. It was an intensive day
program for severely emotionally disturbed kids. One day in 2006, I was facilitating a
children's group session at work. A couple of seats from the head of the table where I sat,
a preteen female's aura glowed with a strange power as she described the horrors that she
had experienced at the hands of her very mean daddy. Before the end of that session, I
had a protagonist and the seed of a recurring story – victimization to empowerment. This
girl prompted me to go for my dream the way that she had decided to go for her own – to
find a good family that would love her forever, and ever.


What was your favorite book growing up?


Tom Sawyer, a required read for class was much more than an assigned book
report for me. I was born into an impoverished family. Tom's initiative and inventiveness
in earning money inspired me toward determination and creativity when supporting my
own family since childhood.


What would you say is your greatest accomplishment?


My biggest accomplishment in life has nothing to do with writing or entertaining
others. I have delivered effective child advocacy services for over forty years. The
improved welfare of children in the state of West Virginia is my greatest
accomplishment.
The greatest accomplishment of my writing career has been the publication of a
novel at a time when the marketplace was undergoing so many rapid changes with new
technology that it was hard to keep up. The original version of Rarity from the Hollow
was published by a now defunct eBook company. Its release preceded the advent of indie
publishing, at a time when self-publishing was equated to vanity, and when only paper
was valued by book critics. After the excitement and pride of having a novel published
without having spent a cent, only to have my long-standing dream of becoming an author
dashed when the press went under, I could have given up.
Instead, I pitched the project to a traditional small press located so far away from
my home that I will never likely have the money to visit, and at a time when small
presses were going down faster than seals in an oil spill. The existence of Rarity from the
Hollow today, with increasing sales on paper and as an eBook, is a tribute to my
perseverance with this project and my greatest writing accomplishment. God willing,
readers on this planet will vicariously experience many more Lacy Dawn Adventures.
Robert Eggleton has served as a children's advocate for over forty years. He is best known for his investigative reports about children's programs, most of which were published by the West Virginia Supreme Court where he worked from 1982 through 1997. Today, he is a recently retired psychotherapist from the mental health center inCharleston, West Virginia. Rarity from the Hollow is his debut novel and its release followed publication of three short Lacy Dawn Adventures in magazines: Wingspan Quarterly, Beyond Centauri, and Atomjack Science Fiction. Author proceeds have been donated to a child abuse prevention program operated by Children's Home Society of West Virginia.
http://www.childhswv.org/