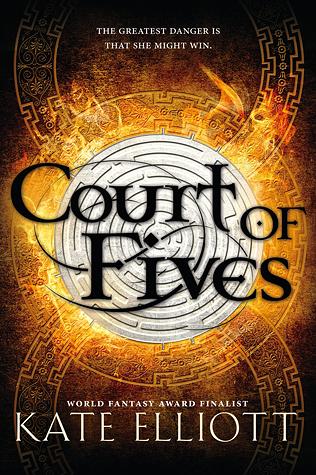 Title:
Court of Fives
Author:
Kate Elliot
Publisher:
Little, Brown Books for Young Readers
Release Date:
August 18, 2015
In this imaginative escape into an enthralling new world, World Fantasy Award finalist Kate Elliott's first young adult novel weaves an epic story of a girl struggling to do what she loves in a society suffocated by rules of class and privilege.

Jessamy's life is a balance between acting like an upper-class Patron and dreaming of the freedom of the Commoners. But away from her family she can be whoever she wants when she sneaks out to train for The Fives, an intricate, multilevel athletic competition that offers a chance for glory to the kingdom's best contenders. Then Jes meets Kalliarkos, and an unlikely friendship between two Fives competitors--one of mixed race and the other a Patron boy--causes heads to turn. When Kal's powerful, scheming uncle tears Jes's family apart, she'll have to test her new friend's loyalty and risk the vengeance of a royal clan to save her mother and sisters from certain death.
Jessamy only wants to run the Fives. She finally gets her chance and everything comes crashing down on her. She finds herself in the middle of a game of intrigue and betrayal.
I'm not really sure how to put my feelings for this book into words. Court of Fives is so gripping that I read this book in one session. I couldn't put it down. I can see why Elliot was a finalist for the World Fantasy Award. The world that she created was so vivid. Countries constantly at war. Magic and oracles. And a game of thrones of the YA kind to rival George R.R. Martin. As Cersei Lannister once said, "When you play the game of thrones, you live or die." That could not be more true as Kal, a prince, unfortunately learns.
I loved to see the friendship between Jes and Kal spark into something more. Romance was there. But it wasn't the main thing driving the plot. I'm glad to see more mainstream young adult books embracing mixed-race and homosexual couples. This book has both.
The plot is amazingly complex, and yet it is done well enough that it's truly easy to follow. The characters are intriguing. I especially like Jes's twin sister Bettany (mainly because she seems to have tourettes and it's pretty hilarious). Jes is tough and soft at the same time. Kal is lovable. The romance isn't thrown in there just for the sake of romance. It helps move the plot along, not hinder it. And yet it's not the driving point of the plot.
I can't find one thing that I don't like about this book. The ending wrapped things up nicely while still leaving a cliffhanger. A cliffhanger enough to make me crave the next book, but not enough to give me a huge book hangover.
So what do I think overall?
I loved it. I can't wait to add this to my shelves. I recommend this to anyone enjoying fantasy and/or young adult.
Note: I received a copy of this book from the publisher in exchange for an honest review. And that in no way sways my opinion of this book.