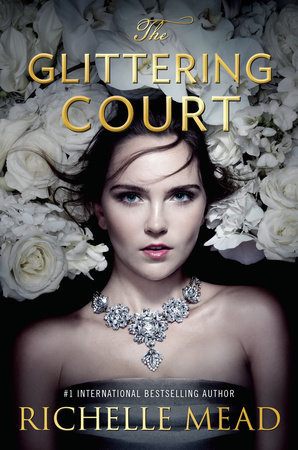 Title:
The Glittering Court
Author:
Richelle Mead
Publisher:
Razorbill
Release Date:
April 5, 2016
A dazzling new fantasy series set in a mix of Elizabethan and frontier worlds that's dripping with romance from Richelle Mead, #1 internationally bestselling author of Vampire Academy.

Big and sweeping, spanning the refined palaces of Osfrid to the gold dust and untamed forests of Adoria, The Glittering Court tells the story of Adelaide, an Osfridian countess who poses as her servant to escape an arranged marriage and start a new life in Adoria, the New World. But to do that, she must join the Glittering Court.

Both a school and a business venture, the Glittering Court is designed to transform impoverished girls into upper-class ladies capable of arranging powerful and wealthy marriages in the New World. Adelaide naturally excels in her training and even makes a few friends: the fiery former laundress Tamsin and the beautiful Sirminican refugee Mira. She manages to keep her true identity hidden from all but one: the intriguing Cedric Thorn, son of the wealthy proprietor of the Glittering Court.

When Adelaide discovers that Cedric is hiding a dangerous secret of his own, together, they hatch a scheme to make the best of Adelaide's deception. Complications soon arise—first, as they cross the treacherous seas from Osfrid to Adoria, and later, when Adelaide catches the attention of a powerful governor.

But no complication will prove quite as daunting as the potent attraction simmering between Adelaide and Cedric. An attraction that, if acted on, would scandalize the Glittering Court and make them both outcasts in wild, vastly uncharted lands. . . .

This is now the second Richelle Mead book I've read. And it was definitely the more enjoyable of the two.

I've been really excited about this book for a while, so when I saw it available on FirstToRead, I was ecstatic. Even after reading it, I'm still excited.

It's kind of like fantasy, because it is based in a new world with new religions and such. But it's also much like historical fiction. There is no magic in this world. It's a lot like our world. And the religions sound like they could be based on some things in our world as well.

Adelaide, or Elizabeth as she is actually named, wants to escape the life of an arranged marriage. Sound similar to other YA books? That's because it is. But this trope is popular for a reason: it helps to create a strong heroine who will do anything for her own freedom. And that holds true here. Adelaide gives up her family name (she's a countess) and the life she's always known so that she can sail to the new world and maybe have a choice.

The Glittering Court was supposed to "refine" her (disguised as a lady's maid) so that men would want to marry her. But she didn't expect to fall in love with the wrong man. Cedric and Adelaide are both complex characters, and I loved watching their relationship grow. I rooted for them from the very beginning.

Mira and Tamsin are still mysterious at the end, and I can't wait to read from their perspectives. Especially Mira's.

Overall?
I loved it. I will certainly pick up a copy for myself and continue on with the series. Recommended to fans of historical fiction and fantasy alike.

Note: I received a copy of this book in exchange for an honest review.