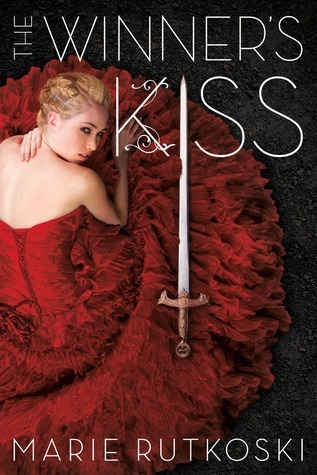 Title:
The Winner's Kiss
Author:
Marie Rutkoski
Publisher:
Farrar, Straus and Giroux (BYR)/Bloomsbury Children's
Release Date:
March 29, 2016/March 24, 2016

War has begun. Arin is in the thick of it with untrustworthy new allies and the empire as his enemy. Though he has convinced himself that he no longer loves Kestrel, Arin hasn't forgotten her, or how she became exactly the kind of person he has always despised. She cared more for the empire than she did for the lives of innocent people—and certainly more than she did for him.

At least, that's what he thinks.

In the frozen north, Kestrel is a prisoner in a brutal work camp. As she searches desperately for a way to escape, she wishes Arin could know what she sacrificed for him. She wishes she could make the empire pay for what they've done to her.

But no one gets what they want just by wishing.

As the war intensifies, both Kestrel and Arin discover that the world is changing. The East is pitted against the West, and they are caught in between. With so much to lose, can anybody really win?
"She'd been Guilty. She had done everything that he believed of her, and now she had no father."
It's always difficult to read and review the final installment of a favorite series. But here we go.
I wasn't sure what to expect going into this. Even with reading the synopsis, I didn't know if I would love or hate the turns this book took with the series. So let's say that I was a little scared to start. But once I did, I devoured the entire book.
As usual, I love Rutkoski's writing. I could see this being an excellent audiobook (which is narrated by the fabulous Justine Eyre, fyi).
We explore a lot more of Herran in The Winner's Kiss. Actually, the majority of the book takes place there, just as the majority of the book is told in Arin's perspective--a pleasant surprise since in the first two his perspectives were probably closer to 40% of each book. And oh, what a character Arin is. He's ruthless, but he's kind. He's powerful, and he's self-loathing.
Even though the majority of chapters are told through Arin, we still see a lot of Kestrel. Because certain things happen. And we end up learning even more about her than we knew before (even if she has less screen time). Kestrel was always a complex character. But The Winner's Kiss just adds to it.
Even Roshar, who we didn't see all that much in The Winner's Crime is a key player. And he's hilarious. Something horrible could have been happening, and he would come in and say something that could make me burst out laughing. He's one of my new favorite characters.
So I obviously love the characters. What about the plot?
I want to say it's simple and straightforward. And it is. But with so many twists and turns in the road as well. That doesn't make any sense until you read the book, I'm sure. But it's true. It seems really confusing and complex at the time of reading. And I was constantly trying to guess what everyone's plans were (because we know that Kestrel and Arin love to play games). But when it's looked at from far away, it's simple: Herran is allied with the East. They are at war with Valoria. The end.
Overall?
Loved it. Definitely recommend if you read and enjoyed the rest of the series.