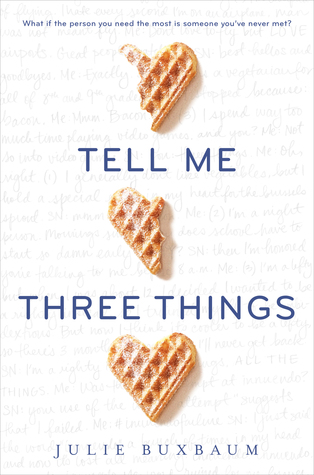 Title:
Tell Me Three Things
Author:
Julie Buxbaum
Publisher:
Delacorte Press
Release Date:
April 5, 2016
What if the person you need the most is someone you've never met?
Everything about Jessie is wrong. At least, that's what it feels like during her first week of junior year at her new ultra-intimidating prep school in Los Angeles. Just when she's thinking about hightailing it back to Chicago, she gets an email from a person calling themselves Somebody/Nobody (SN for short), offering to help her navigate the wilds of Wood Valley High School. Is it an elaborate hoax? Or can she rely on SN for some much-needed help?

It's been barely two years since her mother's death, and because her father eloped with a woman he met online, Jessie has been forced to move across the country to live with her stepmonster and her pretentious teenage son.

In a leap of faith—or an act of complete desperation—Jessie begins to rely on SN, and SN quickly becomes her lifeline and closest ally. Jessie can't help wanting to meet SN in person. But are some mysteries better left unsolved?
This book. This book is basically everything. It's light and cute (which is strange considering it starts with the death of Jessie's mother). It's romantic. It's cliche and tropey but still I love it. I could not put this down. I stayed up all night to finish it.
Jessie is the new kid in the super expensive private school in LA. She wants to be back in Chicago with her friends and where her life always was. But her father dragged her away, and now she's stuck. But she can't help constantly embarrassing herself. She gets an anonymous email (from someone named Somebody/Nobody) who is willing to help her with all her questions, and they quickly become friends.
Jessie soon makes new friends with help and suggestions from SN. But she can't help but wonder who he really is. She, her new friends, and her old friends all have theories, but the reveal doesn't happen until the end of the book.
So the characters. Of the guys, I loved Ethan. He was the most mysterious. But Theo ended up not being all that bad. Jessie learned a lot throughout the book. She finally learned to just say the things she wanted to say without having to think about them. Honestly, this book reminded me a bit of You've Got Mail. You know, that movie back from 1998? Yea, that one. The whole, he knows who she is, but she doesn't know who he is until the end but they still ended up falling for each other thing.
So what didn't I like? The predictability. Honestly, I had figured out who SN was really early on. Like really early. I won't say exactly where so it doesn't spoil you, but I had figured it out with 60% certainty by the end of Chapter 1 (and no that is not a spoiler because everyone is introduced in the first chapter). By page ~100 I was 95% certain and it just went up from there. I was, of course, correct.
Overall?
I really loved it, aside from it being predictable. It put me in the mood to read more cute contemporaries. I would definitely recommend this to someone who enjoys the genre.
Note: I received a copy of this in exchange for an honest review.