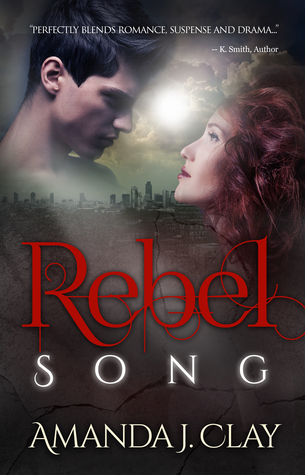 Title:
Rebel Song
Author:
Amanda J. Clay
Publisher:
CreateSpace Independent Publishing
Release Date:
November 29, 2014
A reluctant hero A determined princess The revolution that stands between them The once prosperous European kingdom of Arelanda has been plagued with poverty and corruption since the failed rebellion tore it apart. Now, rebels stir again in the capital's underbelly, vowing to depose the monarchy and overturn the unjust government. Seventeen-year-old Rogan Elwood, son of a rebel leader executed for treason after the first rebellion, has borne a tainted legacy his entire life. As he is pulled deeper into conflict, Rogan must face his calling in the future of the rebel cause—waging his want for peace against his desire for vengeance. Everything changes when he falls for Elyra—beautiful, idealistic and determined to bring Arelanda a better future. She also just happens to be next in line to the throne—if the corrupt Minister General doesn't beat her to it. Caught in the midst of a budding civil war and surrounded by enemies on every side, Elyra and Rogan must fight to save themselves and their country—and choose between each other and their duty.
I enjoyed this book. I did. I liked the political intrigue. I liked that there was a love story (and a doomed one at that). El's and Rogan's romance developed slowly, turning from friendship into something more.
Quick recap
Rogan, a leader of the rebellion in the fictitious European country of Arelanda, is the young owner of a vineyard. He meets Elyra at the beach one day after her ankle. She reluctantly lets him help her, and they slowly develop a friendship throughout the day. El comes to see Rogan st the market selling wine and coaxes him to see her again, neither of them knowing who the other truly is. They meet in secret many times and fall in love, until El confesses to Rogan that she's the princess.
I liked seeing the relationship between Elyra and Rogan flourish, especially once they finally both knew who each other were. Elyra, dedicated to help her country, could see that the so-called rebels just wanted justice, funds for veterans, and a real peace to the country. Nothing outrageous like the Minister General Patrone would have her believe.
The plot is pretty basic star-crossed lovers, power-hungry villain, etc. But I think it is executed pretty well. The characters were always hiding something. And with the possible murder of Elyra's father, the king, and her facing treason charges, Pantone seems to have all the power in his grasp. Except that his enemies are escaping and if he rules there will be a real war. It would have been nice to see a bit more of the rebellion itself.. Most of the rebellion that we see is just meetings, talking about what to do, and it's not very interesting. But it's a rebellion! There is one scene when Demos comes to arrest Rogan. It's nice and action-packed. I would like to see more action like that in the sequel.
What I really liked about this story is that it's a love story. And if you know me and follow my reviews, you know that I love a book with romance in it. There wasn't anything too spicy in it to make me uncomfortable (like I have seen in some of my recent reads). But there is some sex. And I love the whole star-crossed lovers thing. That may sound weird considering I hate Romeo and Juliet. But I really enjoyed how it played in Rebel Song.
The book ends on a cliffhanger that gave a bit of a book hangover. Making me kind of need to read the next book in the series. Did I love this book? Not quite. But I did really like it. I will definitely read the next one. Recommended to people liking YA romances.
Note: I received a copy of this book in exchange for an honest review. And that in no way changes my opinion of this book.